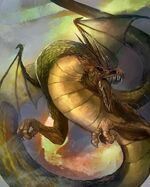 Lindworms are Dragons who live at the roots of the world tree, Yggdrasil.
Magnus Chase was fighting Lindworms in Hotel Valhalla with Thomas Jefferson Jr., Mallory Keen, Halfborn Gunderson, and new einherji Alex Fierro. However, Grimwolf, one of the oldest lindworms, suddenly appears on the battle field. Alex suspects that Loki sent him here and cuts its head off with her garrote while Magnus distracted Grimwolf.
Appearence
Lindworms were the size and lengths of eighteen-wheelers. They only have two front legs and leathery brown bat-type wings.
Trivia
Lindworms looks like George R.R Martin's dragons from A Song of Ice and Fire.
While lindworms in the books have wings, the original mythology portrays them as just snakes with arms.
It's supposed that they could be controlled for Loki, as Alex suspect that he sent him. If that's true is probably possible be Loki is the god of snakes & serpents  (and fire wyrms sometimes) soo, possibly can include him as god of lindworms of dragons too. Althought, supposedly he not are immune to they's venom.
Community content is available under
CC-BY-SA
unless otherwise noted.