Loki's Cavern is the prison of Loki after the trickster killed Balder.
History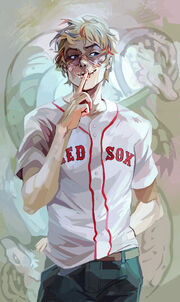 After killing Balder, Loki was tracked down and placed in the cavern. He was bound to a stone slab with the entrails of his sons, Vali and Narvi. A venomous snake was placed above his head, an idea through of by Skadi that secreted a cerosive venom on his face with only his wife Sigyn for company.
When Loki talks with Magnus Chase in a dream, the son of Frey sees the trickster in in the cavern shackled to the rocks of within.
Loki's Cavern is the location of the wedding between Thrym and Samirah al-Abbas. it was half-frozen when Hearthstone uses Isa to Loki's bonds. It also is covered in lava and sulphur . After the fight breaks out Loki is freed from his bonds by Randolph Chase and flees to Helheim.
Community content is available under
CC-BY-SA
unless otherwise noted.