Cobra Kai Season 4 - The Loop
Play Sound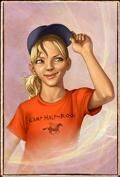 Lotus Cash cards are the Lotus Hotel and Casino's version of debit cards.
Worth
The Green Lotus Cash Cards never run out of cash, as shown when Percy Jackson, Annabeth Chase, and Grover Underwood board a taxi and pay with the card and the infinity sign comes up on the machine the taxi driver swipes it on.
The green cards allow access to the main game room, which features hundreds of games, an indoor bungee-jumping bridge, an indoor waterslide as well as allowing the guests to get free food at the multiple snack bars. Annabeth also used it to pay a cabbie.
The cards lure Percy, Annabeth, and Grover to stay in the Lotus Hotel. As they are escaping the Casino, a bellhop gives them the "new Platinum Cash Cards" that would have allowed them access to a new level in the Hotel. The trio decline, and later Annabeth gives a taxi driver her cash card as payment for driving them to Los Angeles. When the driver swipes the card, his cigar falls out of his mouth in shock when he sees the infinite symbol appear on the screen. He then addresses Annabeth as "Your Highness," apparently believing that she is of royal descent.