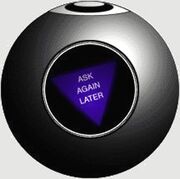 The magic 8 ball belongs to the headless ghost of Agamethus, as it is his way of communication. Agamethus shakes it, and whatever he wants to say appears on the blue triangle. However, is said that it only works about 30% of the time.
Then there was the little one...

This article is in need of expansion. You can edit it in order to achieve a higher standard.
Agamethus uses his magic 8 ball to communicate with others at the Waystation. After the Attack on the Waystation, he departs from the land of the living leaving it behind.
Several quotes from the Magic 8 Ball:
'Apollo must bring her home.'
'Reply hazy. Try again later.'
'We cannot remain.'
'Outlook not so good.'