Mark is a Greek demigod son of Ares.
The Stolen Chariot
When Clarisse mentions that her brothers are messing with her, Percy instantly thinks of Mark and Sherman Yang, her brothers from Camp Half-Blood. This means they are possibly the most troublesome out of her siblings.
Mark may have been one of the Ares campers that was convinced by a disguised Silena Beauregard as Clarisse to join the rest of the campers in New York City in the battle against Kronos and his monsters. Only later did they realized that it was Silena and not Clarisse.
Abilities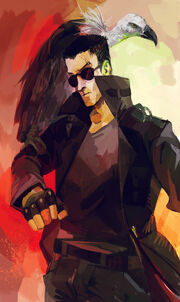 ADHD: Like most demigods, he possesses inborn supernatural battle reflexes and senses that he uses to analyze the fighting style of his opponent.
Fighting Skills: He is quite skilled with weapons.
Dyslexia: His brain is hard-wired for reading Ancient Greek instead of modern languages.
Demigod Abilities
Trivia
The name Mark is derived from Mars, the Roman form of Mark's father, Ares.