This article is about the coin. You may be looking for the book.
The Mark of Athena was a silver drachma coin that the goddess Athena gave to a select few of her demigod offspring to avenge her against the Romans for stealing her sacred statue, Athena Parthenos, which her greatest rival, Arachne, guarded in a chamber.
History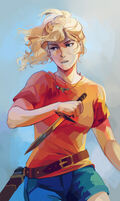 Every few generations, if Athena considers one of her children worthy, she gives them this coin.
It is shown that Athena (in her Minerva form) had given Annabeth Chase the coin prior to the events of the book. She had told Annabeth to follow it and "avenge her," or else she was no child of hers. The coin ultimately leads Annabeth to the Athena Parthenos, where she faces Arachne, the greatest fear of the children of Athena. Annabeth was the only child of Athena to find the statue and recover it.
Abilities
A glowing image of Athena's sacred animal, an owl, appears and "guides" the possessor to the Athena Parthenos, appears even in places like Rome. According to Aphrodite, the mark is a connection beween the statue and the children of Athena.
If the user tries to throw away the coin, it simply reappears in their pocket.
Trivia
Community content is available under
CC-BY-SA
unless otherwise noted.