Maron is a Satyr. His mother was one of the nymphs who cared for Zeus. Zeus honored him and his brothers Silenus and Leneus whom make up the Council of Cloven Elders.
Maron first appeared at the Council of the Cloven Elders hearing. He was not as angry as Leneus, and they were convinced by Chiron to allow Grover a week to find Pan. Maron is presumed to have fought in (and survived) the Battle of the Labyrinth. Later, when Grover returned saying that Pan was dead, Leneus voted to exile him. The council ended with a tie vote and the satyrs split into groups and some following the council while others followed Grover. Maron voted to exile Grover, but they were put into a deadlock.
Maron is presumed to have fought in The Battle of Manhattan. It is unknown what happened to him, but as his death is not mentioned it is likely he survived.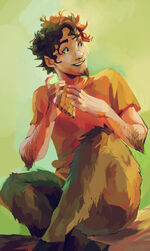 Community content is available under
CC-BY-SA
unless otherwise noted.