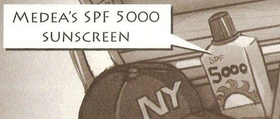 Medea's Sunscreen is a brand of sunscreen used by demigods. It is only for magical and/or demigod uses.
History
In the myths, Medea, the sorceress, gave this to the original Jason so he could fight the fire-breathing Colchis Bulls. At the time it was not known as "sunscreen" , but just magical lotion.
Annabeth Chase suggests to Percy Jackson that they use Medea's sunscreen to shield themselves against the fire of the Colchis Bulls. She warns that by not wearing the sunscreen, they would get burned to a crisp. She then realizes that she left it at home and curses herself for that.
In the photo of Annabeth's trunk, Medea's Sunscreen is shown.
When Leo Valdez tells Medea that he does not need fire protection, Medea wonders how since he does not seem to be wearing her trademark sunscreen.
Uses
When SPF 50,000 is used, it makes the user invulnerable to certain types of fire, like the Colchis Bull's fire and other types of fire as well. It is used by demigods when going on quests. However, the sunscreen doesn't last for ever.
Trivia
One type of Medea's sunscreen is coconut scented.