Meow-dad, or TransubDad-tiation is a cat that belongs to two versions of the Reál family.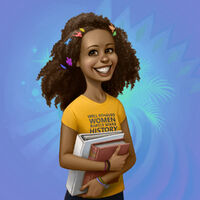 Gabi Real brings him to the Coral Castle after finding him using Ignacio Real as a portal to another universe. She and Sal Vidon see him get dragged around by an invisible force for a few seconds before vanishing when he jumps at Iggy.
He goes with Bonita and the Reál children to the Coral Castle. Not wanting Iggy to be exposed as an inter dimensional portal, Sal tries to hid him in a Security Sphere, but accidentally activates it's disco function. He vanishes when Gustavo and Lucy greet Iggy.
Later on in the week he attacks the rogue Gabi.
Appearance
Meow-dad is a fat orange cat that looks like a baby in a hippopotamus costume.
Trivia
He bears a resemblance to the titular character of the Garfield comics.