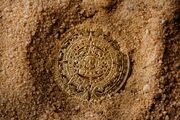 The Mexica Gods are gods and goddesses worshiped by the Mexica ("meh-SHEE-ka"), the civilization that succeeded the Maya. They were a Nahuatl-speaking group indigenous to Mexico.[1] They was often referred to as the Aztec, meaning "people of Aztlán", but that was actually a misnomer, they didn't actually refer to themselves as that.[2]
Following the conquest of their civilization and the conversion of their people's religions, the Mexica Gods retreated to the mythical realm of Aztlán. But with no sacrifices to keep the gods strong, they died off with their people.[3] A few hundred years later, the Mayan hero twins Jordan and Bird attempt to resurrect them as revenge against the Mayan gods.
Gods
Goddesses
Gallery
Trivia
References
Community content is available under
CC-BY-SA
unless otherwise noted.