She-Hulk Trailer Dropped - The Loop
Play Sound
The United Mexican States (simply known as Mexico) is a country in North America, located just south of the United States of America.
As Carter and Sadie Kane head to Phoenix, they stop on the American side of the Rio Grande just outside of El Paso, Texas. During this stop Carter can see the country, specifically the state of Chihuahua, across the river.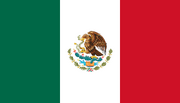 After Zane defeats Ah-Puch, he and his family are relocated to Isla Holbox in Quintana Roo.
Zane Obispo sets out from Isla Holbox to save his father along with Hondo Obispo, Ren Santiago, Rosie, and Brooks. After entering Xib'alb'a, they head to San Miguel de Allende, Guanajuato so the the son of Hurakan can undergo a Death Ceremony. During the death ceremony he is teleported to the Tomb of the Red Queen in Palenque National Park in Chiapas before returning to San Miguel. Early the next morning he, Ren, Rosie, and Ah-Puch head to the resort city of Cabo San Lucas, Baja California Sur to find the Fire Keeper before going to New Mexico in the United States of America the following morning.
Zane returns to Isla Holbox after months of searching for godborns.
Cave of Doom
The islands of Isla Holbox and Isla Pájaros in Quintana Roo are the main settings of the short story.
Trivia
During colonial times, Mexico was known as the Viceroyalty of New Spain.

At its height, the territory of New Spain consisted of what is now present-day Mexico, Puerto Rico, Cuba, the Dominican Republic, Guatemala, Belize, Honduras, El Salvador, Nicaragua, Costa Rica, Venezuela, two-thirds of the continental United States, and Florida.
At two points in its history, Mexico had an emperor. The first emperor was Agustín I of Mexico from 1822-1823. The second emperor was Maximillian I of Mexico from 1864-1867, an Austrian prince who was instated by the French as a means to expand the influence of his cousin, Napoleon III of France, in Latin America during the Second French Intervention of Mexico.