Then there was the little one...

This article is in need of expansion. You can edit it in order to achieve a higher standard.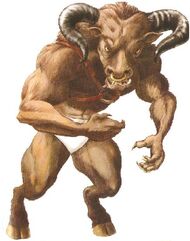 The Minotaur's Axe is a seven-foot, double-bladed axe shaped like the last letter of the Classic Greek alphabet, the omega, possibly because it is the last thing his victims ever see. It has camp necklaces from demigods it has killed. It is used by the Minotaur in the Battle of Manhattan before it was broken by Percy Jackson and part of it was used to kill the monster.
References