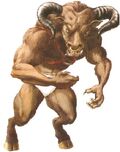 The Minotaur's Horn is a spoil of war claimed by Percy Jackson when he defeated the Minotaur for the first time in The Lightning Thief.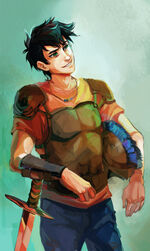 When fighting the Minotaur, Percy snaps off the Minotaur horn, and starts to use it as a weapon against the monster. The horn is only mentioned a few times after the first book. After the Minotaur's death, Grover retrieves it and gives it to Percy as a spoil of war, though Percy doesn't know that that's what it is until later. It first starts out as Percy's only possession when he comes to camp but by the end of the book it becomes his prized trophy that he hangs up on his cabin wall.
Percy first enters his cabin, and views the Minotaur horn. Later, Percy hangs up his shield next to the horn on the cabin wall.
Though it does not make a formal appearance, the horn is mentioned when Percy confronts the Minotaur a second time. The Minotaur has apparently grown a new horn to replace the broken one as it is referred to as having horns plural. During the battle, Percy ends up slicing off both the Minotaur's horns before killing him, but doesn't take them this time. They likely fell into the river when Percy destroyed the Williamsburg Bridge.
Film
In the film, Percy does not physically remove the horn from the Minotaur as in the book.
While charging towards Percy, the Minotaur gets stuck in a tree by its horn. When he tries to get unstuck, his horn breaks off and gets stuck in the tree. Percy then proceeds to grab the horn and stabs the Minotaur, thus killing it.
Community content is available under
CC-BY-SA
unless otherwise noted.