Mitchell is a Greek demigod son of Aphrodite. He lives at Camp Half-Blood. He has at least three half-brothers, alongside his half-sisters.
When Piper McLean arrives at Camp Half-Blood, and is claimed as a daughter of Aphrodite, Mitchell states that she might "not be that bad after all." The comment drives Drew Tanaka, the head counselor of the Aphrodite cabin at the time, mad and she orders him to do garbage patrol for a week as a punishment. He then tells Piper about Drew's ability to charmspeak, a rare gift for children of Aphrodite that can force people into doing what they want. Drew overhears this and makes Mitchell do an extra week of garbage patrol.
He and Lacy help Piper when she is chosen to go on a quest by giving her clothes and food, telling Piper that they had started a collection. Later, when Piper challenges Drew for leadership, he is said to be grinning and cheering. Mitchell becomes excited when Piper becomes the new head counselor.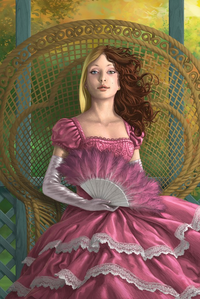 Personality
Mitchell is a goodhearted kid, but is somewhat submissive as he is unwilling to stand up to Drew because of her charmspeak. Despite following her orders, he helps Piper behind Drew's back and will even go against Drew's orders under the right circumstances. He thinks of Silena Beauregard as a hero, as he defended Silena when Drew insulted her.
Abilities
French Fluency: As a son of Aphrodite, he is fluent in French due to it being the "language of love".
Amokinesis: As a son of Aphrodite, he is capable of varying degrees of control over love, lust.

He can attract those who he wishes to him as his mother is the goddess of love.
He can attract beings when they walk by him.
Minor degree of love magic
He has the ability to change his physical features, as Aphrodite is also the goddess of beauty.

Beauty: He is able to radiate beauty, regardless of how he may look as his mother is the goddess of beauty.
Trivia
Mitchell is the only named demigod son of Aphrodite to appear in any of the three series, although a son of Aphrodite's Roman form Venus, Michael Kahale is a character in the Heroes of Olympus series.