Moonlace is a native plant of Ogygia given to Percy Jackson by Calypso.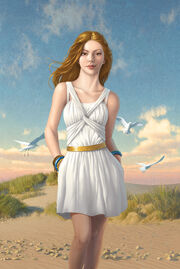 While Percy stays with Calypso on Ogygia, Calypso makes Percy promise to plant a garden for her back in New York City after learning that they had no flowers in Manhattan. After returning home to New York, Percy plants it in his mother's flower box and she takes care of it while he is away on quests at camp. After celebrating his fifteenth birthday, Nico di Angelo startles him by commenting "nice plant."
Appearance
The plant is described as looking bio-luminescent, glowing silver and sprouting under moonlight. Percy remarks that it seems to grow quickly when under his mother's care. Also, the book hints that it has to be night time for the flower to be planted and grow.
Community content is available under
CC-BY-SA
unless otherwise noted.