Muspellheim (pronounced "MOO-spell-hame") is one of the Nine Worlds, more specifically the one inhabited by the Fire Giants and ruled by Surt.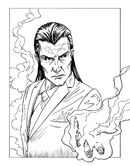 While Gunilla was giving Magnus a tour of Valhalla, she accidentally took the elevator to Muspellheim, burning herself badly when the doors opened. About a week later at Fenris Wolf's prison, Magnus uses Sumarbrander to banish Surt and his Fire Giants back to Muspellheim when a fight breaks out.
Hrym mentions the land of fire when explaining that Surt owns the Ship of the Dead due to cheaper taxes in Muspellheim.
I Play with Fire
When Sumarbrander is alerted that Surt is gathering forces, Alex Fierro goes to the world of fire to see what he is planning.
Trivia
Muspellheim and Niflheim were the first two worlds in existence.
Community content is available under
CC-BY-SA
unless otherwise noted.