The Nine Billow Maidens (also known as the Daughters of Ægir​) are the mother(s) of Heimdall.
They are the daughters of Ægir, a giant, and Rán, goddess of the sea. Their names (with translations) are:
Himinglæva - That through which one can see the heavens (a reference to the transparency of water).
Dúfa - The Pitching One.
Blóðughadda - Bloody-Hair (a reference to red sea foam).
Hefring (or Hevring) - Riser.
Uðr (or Unn) - Frothing Wave.
Hrönn - Welling Wave.
Bylgja - Billow.
Dröfn - Foam-Fleck (or "Comber" according to Faulkes).
Kólga - Cool Wave.
The Nine Billow Maidens are mentioned by their son, who finds it tiring to find nine of everything for Mother's Day.
As Magnus and his friends travel across the oceans to meet up with Blitzen and Hearthstone, a whirlpool begins to form in front of their ship and takes them under. They meet Aegir and his daughters, who were the ones who took them under. Sam declares guest rights, and they all sit down to have a nice Viking feast. During the feast, Magnus has to convince Aegir that he should let them live, and it has to have something about mead. His story checks out, but Aegir is concerned that if he just let them go, his wife would be angry because Magnus had ruined her trash collection and she wants revenge. But if he "conveniently" left the room and Magnus and his friends escaped, he wouldn't have anything to worry about. His daughters, the maidens, on the other hand, weren't so generous. As soon as Aegir left, they pounced. After a brief fight, the crew managed to escape, and floated back to the top of the ocean to continue their quest.
Personalities
With nine individuals, it is hard to determine the personality of the maidens. However they appear to be loyal to their parents, as they were ready to kill Magnus after what their mother told them.
Appearances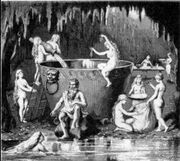 Each Maiden wears an outfit that coordinates with her namesake. For example, Kólga is said to wear a dress that looks like a mix of ice and slush, while Blóðughadda, on the other hand, is described as having blood stains all over her body and dress, and even has blood all around her mouth. They all also have razor sharp teeth. Kólga is even described as having teeth that looked like they were made out of icicles.