The Norse Gods are a pantheon of deities central to all accounts of Norse mythology. The principal pantheon of the Norse gods is the Aesir (pronounced 'AY-ser', traditionally spelled Æsir), whom are connected to power and conflict, while a second pantheon comprises the Vanir (pronounced 'Vah-NEER'), whom are associated with cultivation and fertility. In Norse mythology, the two clans waged war against each other, ultimately resulting in the eventual unification of the two pantheons. Loki has stated that the Norse Gods, are two families of God, Aesir and Vanir, when he was asked by Magnus to reveal his affiliation.
Operation
The Norse Gods like the Greeks and Romans are able to have demigod children but unlike their counterparts do not have a camp to train them. They are also able to walk the mortal world without a host. They maintain their youth with golden apples instead of by will like a Greek or Egyptian god.
List of Norse Gods
Aesir
Vanir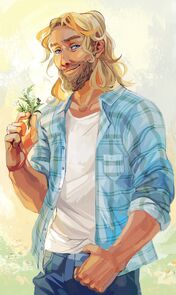 Uncertain
Abilities, limitations, and weaknesses
The Norse gods have eternal youth granted by regular consumption of the Golden Apples of Idunn, with superhuman physical abilities and a variety of magical powers. Because the Norse gods are physical beings (like the Greco-Roman gods and unlike the Egyptian gods), they are able to sire demigod children with mortals and walk the earth without a host.
Trivia
Community content is available under
CC-BY-SA
unless otherwise noted.