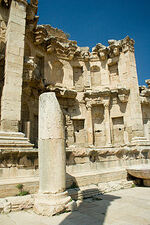 Nymphaeums are monuments dedicated to nymphs. Percy Jackson, Piper McLean, and Jason Grace enter one under a building in The Mark of Athena. It was a shrine to the nine original nymphs who raised Zeus as a baby and concealed him away from Kronos.
Function and Purpose
These monuments were originally natural grottoes, which tradition assigned as habitations to the local nymphs. They were sometimes so arranged as to furnish a supply of water, as at Pamphylian Side.