Boba Fett Returns - The Loop
Play Sound
Not part of Riordanverse

This book or series is published under Rick Riordan Presents and its contents is not canon to the Riordanverse.
Pahua and the Soul Stealer is an upcoming standalone book by Lori M. Lee that focuses on Hmong mythology. It is set to be released September 7th, 2021.
Synopsis
Pahua Moua has a bit of a reputation for being a weirdo. A lonely eleven-year-old Hmong girl with the unique ability to see spirits, she spends her summer days babysitting her little brother and playing with her best friend, a cat spirit no one else can see.
One day Pahua accidentally untethers an angry spirit from the haunted bridge in her neighborhood--whoops. When her brother suddenly falls sick and can't be awoken, Pahua fears that the bridge spirit has stolen his soul. She returns to the scene of the crime with her aunt's old shaman tools, hoping to confront the spirit and demand her brother's return. Instead, she summons a demon.
Thankfully, a warrior shaman with a bit of an attitude problem shows up at the last minute and saves her butt. With the help of this guide, Pahua will have to find her way through the spirit worlds and rescue her brother's soul before it's too late. Little does she know she'll have her own discoveries to make along the way. . .
. . With its unforgettable characters, unique nature-based magic system, breathtaking twists and reveals, and climactic boss battle, this story based on Hmong oral tradition offers everything a fantasy lover could want.
Development
This book was first announced on Rick Riordan's Tower of Nero tour in October 2020,[1] which was confirmed by the author Lori M. Lee via Twitter on January 28 2021[2]. In a following Tweet she said that the book contained "a judgmental invisible cat [...] a fire spirit that lives in the stove [...] multiple realms inhabited by spirits and dragons [...] a demon in a sundress [and] FUN TIMES ALL AROUND"[3] and in the next Tweet she put a link to the Goodreads page with the official summary[4].
On February 3 Rick Riordan posted an update to his website[5] in which he said "First up, news broke this week about Lori M. Lee's wonderful upcoming novel for us: PAHUA AND THE SOUL STEALER. [...] I have read it. I have loved it. My only regret is that I didn't know more about Hmong story traditions before now. They are fascinating. The ghosts! The shamans! The talking cats!" At the same time Lori M. Lee had also made a page on her website for Pahua and the Soul Stealer[6].
On February 19 Lori M. Lee made a Tweet that revealed the release date for Pahua and the Soul Stealer -- September 7[7].
On April 14, ReadRiordan revealed the cover for the book through their website.[8]
Plot
Summer School and Haunted Bridges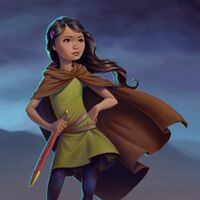 As Pahua Moua is getting ready for summer school, a spirit in the form of a black kitten named Miv, who she has known since she was five, says she looks like an eggplant with the shirt she is wearing. She ignores him and bumps into her mom carrying pants of rice. While she is exited for movie night, her mother says she has to skip it as something came up. After eating breakfast, she and her younger brother, Matt, go to summer school. As they walk, she sees various spirits and acknowledges them, only for two boys passing by to call her crazy. When she gets to her first class, algebra, she sees the school's mean girl, Hailey Jones, walk in with her friend, Jocelyn. They find a grain of rice on Pahua's shirt and mock her for it. Just then, a new girl from Chicago, June, stops the girls from mocking her and asks Pahua to join them in checking out a bridge, which is said to be haunted by the ghost of a girl who was abandoned by her family, which she reluctantly accepts. As they get closer, Pahua starts to feel something negative.
Characters
Chapters
My Best Friend Is a Cat Spirit
Human Spirits Are The Worst
Don't Talk to Bridge Spirits
Continuing the Tradition of Making Bad Decisions
Shaman Warriors Are Real and Also Rude
Flying by Elephant Statue
Killer Fashion
Sleep Is for The Weak
Let Me Cosmos-Google That for You
Meeting Grandpa, Ruler of All the Realms. No Pressure
I Wouldn't Even Mind if He Called Me Dummy
Dragon Spirits Need Fashion Tips. A Sword Tip Works, Too.
Traffic Jam at the Crossroads of the Realms
The Guardian of the Crossroads is a Stone-Cold Screamer
Death by Cursed Frog
If There's a Booby Trap, It's an Evil Lair
Running for Our Lives-A Theme
Equestrian Rentals
Friendship Upgrade
Sacred Ground, No Trespassing, Will Be Cursed
Knowledge Hurts
Past-Life Highlights Reel
Worst Memory
King Arthur Did It Better
Stranded
Trust-Fall, Extreme Edition
Don't Take Me to Your Leader
Smoke and Ashes
Dragon, Meet My Friend the Water Buffalo
Sibling Reunion
God of Thunder, Destruction, and Goth
Truth and Lies
True Strength
Time for Those Long-Overdue Talks
Trivia
The book is dedicated to Lori M. Lee's mother, "whose bravery could rival any folktale's hero", and to Matt, "one of [her] earliest partners in imagination".
Pahua and the Soul Stealer is the first stand alone book under Rick Riordan Presents to not be released in January.
References