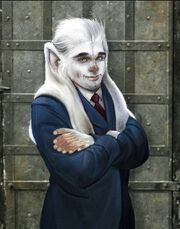 Pandai (Sometimes spelled Pandae; singular: Pandos) are types of Monsters with large ears, fur, and eight fingers.
History
Pandai were a long living tribe from the Indian mountain valleys. They had gigantic ears, eight fingers and toes. White hair covered their entire bodies and turned black with age, unlike human hair. The women only have children once in their life which are born with beautiful teeth. They are very warlike and five thousand of them, with bows and spears, accompany the kings of India on his military expeditions.[1] They also did this with a drunk Dionysus[2], they are mercenaries who choose their masters.
Pandai are used by Caligula to guard the entrance to the burning maze and the Julia Drusilla Yachts.
Notable Pandai
References
↑

The Burning Maze, Ch. 25
Community content is available under
CC-BY-SA
unless otherwise noted.