Jurassic World: Dominion Dominates Fandom Wikis - The Loop
Play Sound
"
So, I mean, do I even have that to define myself? The last few months I've been trying to learn more about my heritage. Picking up my granddad's blowgun, talking to my dad about family history to take his mind off stuff. But what if I'm not any of the things I've been told I am? I have to figure out who I am.
"

–Piper to Apollo on trying to find who she is in The Burning Maze.
Piper McLean is a Greek demigod, daughter of Aphrodite and Tristan McLean. Piper is the former Head Counselor of the Aphrodite cabin and one of the demigods of the Prophecy of Seven She is the former girlfriend of Jason Grace and is currently in a relationship with Shel.
History
Early Life
Piper got her name from her Grandpa Tom, who noted her strong voice and hoped that she would one day learn all of the great Cherokee songs, including the Song of the Snakes. As opposed to many other children of Aphrodite, Piper was never very focused on her natural beauty and has a somewhat tomboyish style. At one point, she helped her actor father research Greek mythology (for a role her father was about to take on in a film) and learned quite a bit of information that she found interesting.
Her father would also tell her old Cherokee stories he heard from Grandpa Tom. From time to time, Piper and her father would play a game called "Any Three Questions," in which Piper would ask her father any three questions of her choice and he had to answer them without lying. Her main intention was to find out more about her mother who apparently left after she was born. However, Piper wasn't able to learn much about her mother. She later recalls how her father had driven Piper past a meat-processing plant in Chino when she was little. The smell had been enough to turn Piper into a vegetarian. Ever since then, just the thought of cows made her ill. As Asclepius would later reveal, Piper had broken her arm when she was six after falling off a horse.
Going to Boarding School
In addition, Piper has always had the ability to Charmspeak and uses it (unknowingly) to gain her father's attention by "borrowing" things from salesmen, causing her to get into trouble with the law when the people report her for stealing. At one point, she talked a car dealer into giving her a BMW and drove it away from the lot. She only stole items because she wanted to gain attention from her father, whom she believed wasn't spending enough time with her. The dealer pressed charges for theft after Piper took the BMW and realized that he had been tricked. Her father's assistant, Jane, made a deal for her to be sent to Wilderness School, a place for delinquent kids, instead of going to jail. It was there that she met Leo Valdez, and the two formed a friendship, she even trusted him with the truth that her father is the movie star Tristan McLean, something that she keeps a secret to most people.
Piper and Leo's backstory is a rare one since they are the only two known demigods who meet and befriended each other before they even knew they were demigods. And, despite being older than twelve, Piper has somehow managed to avoid detection from monsters.
Mist History
Leo Valdez and Piper were both given false memories of Jason Grace before he arrived at the Wilderness School. In these memories, Jason, Leo, and Piper had been friends for about three months after Jason first arrived. Piper tried to get closer to him and the two eventually watched shooting stars from the school's roof and shared a kiss. They began dating a few weeks before the events of The Lost Hero and Jason was also Leo's best friend. This reality was proved to be fake when Annabeth asked Piper some basic things about Jason she doesn't know, like his last name.
To see this text, hit the "Expand" link to the right.
Piper appears the first time in the Wilderness School bus driving towards the Grand Canyon on a field trip. She is holding hands with Jason, who she believes is her boyfriend because Hera had given her false memories. She's the first to realize something is wrong with him (Leo at first believes Jason was playing a prank on them), and is devastated when she finds out that Jason doesn't remember her. This is because Hera erased his memory, as well as Percy Jackson's, and it is later revealed she used the Mist to try to trick Piper. Shortly afterward she is torn away by Dylan, who declares her his partner for the school work, but keeps flirting with her the whole while.
As a strong storm starts, Piper and Dylan help the others to leave the sky-walk, until only she, Dylan, Leo, Jason and Coach Hedge are left. As Piper loses control of the door, which suddenly seems to be magically locked, Dylan reveals to be an anemoi thuellai (Roman form ventus), a storm spirit and a child of the storm giant Typhon, and battles the four of them along with his fellow venti (plural form of ventus). Piper tries to fight the venti with Jason using Hedge's baseball bat as a weapon, but when she hits Dylan to prevent him from taking Jason, she is thrown off the sky-walk. Jason jumps after her and saves her, stopping in midair and catching her before flying back up safely to the skywalk.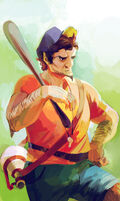 Dylan takes Hedge away after Hedge saved Leo, who had been knocked off the sky-walk in the battle. The three are picked up by a chariot, driven by Annabeth Chase, daughter of Athena, and Butch, son of Iris. Soon after, they crash land in a lake at Camp Half-Blood, Annabeth gives Piper a tour of the camp and helps her pick out her weapon, a dagger previously owned by Helen of Troy, called Katoptris (Ancient Greek for "looking glass") that has the ability to show much more than the user's reflection when looked at, such as depictions of the near future. Later that night, Jason is tasked with picking two others to come on his quest by Chiron. After he picks Leo, Piper says she has to go too while trying to compete with Drew to be on the quest. She was then claimed by Aphrodite, much to Drew's chagrin and is chosen by Jason. Later she becomes friends with two of her half-siblings, Lacy and Mitchell, and learns how to use her ability to charmspeak. However, Drew, the head of the cabin, keeps everyone under her thumb with her own ability to charmspeak and makes Piper so mad that when asked who her father was, Piper admits he is Tristan McLean without thinking about it. When the other members ask if it is true and she becomes the center of attention in the cabin, Drew tells everyone that it is a lie, but rips his poster off the wall a short time later. Piper claimed she did not like to play the "famous dad card," and felt bad and regretted what she did after using it against Drew.
The next day, Piper, Jason, and Leo take Leo's new "pet mechanical dragon," Festus, and begin their quest. They arrive in Quebec and they meet Boreas and his children, including Khione (goddess of snow) and the Boreads (immortal children of Boreas), where they get on a bad note with them. Later, while Piper is sleeping, they fall off the dragon, which malfunctions and they crash land into a supposedly abandoned car factory in Detroit, which turned out to be the residence of three grown Cyclopes. Jason and Piper are held captive and Piper is bound and gagged whilst Jason is knocked out, but Leo rescues them and they find out he has fire abilities. After they escape, they stop to rest, but then they meet Medea, a sorceress and charmspeaker, who nearly causes Jason and Leo to turn against each other, however Piper gets them out of the trance with charmspeak and they fight Medea. They also find Coach Hedge and the storm spirits to trade with Aeolus. As they escape, the building explodes.
Soon, Festus crash lands again and they fall in front of a mansion. Inside they meet Midas and his son Lityerses. Jason helps himself and his two friends escape, after Leo and Piper get turned to gold, by calling down lightning and defeating Lit in a swordfight. After they turn back to normal they run into Lycaon (the first werewolf) and the rest of his pack, but the Hunters save them. Thalia Grace, Artemis's lieutenant and Jason's sister leads them to Aeolus's palace before getting separated when the ice vapor bridge melts after Leo gets too excited about a theory he formed about Jason's appearance and Percy's disappearance. They meet Mellie the aura, who has a huge crush on Coach Hedge and who ends up marrying him and having his son whom they named Chuck. The trio meets Aeolus who, in the end, tries to kill them on the order of Gaea. When they escaped, winds shot them to California. They confront the giant Enceladus to rescue Piper's dad, Tristan McLean. They manage to defeat the giant along with the Earthborn with help from Zeus, but her father is mentally broken and Piper is forced to give him a potion that Aphrodite had given her, one that will erase all his short term memories. Piper then allows the medical team to take her father away while she charmspeaks a pilot into letting them borrow their helicopter to travel the wolf house to rescue Hera. They find out that Khione has been spying on them and that she plans to help the rise of Porphyrion, the giant king. Leo battles against Khione and manages to force the goddess to retreat with the help of his fire powers until Porphyrion rises and Jason keeps him occupied while Leo tries to cut Hera free. Piper lulls Gaea to sleep; showing her amazing skills in charmspeaking.
After their quest is completed, Piper, Jason, and Leo return home to Camp Half-Blood. The next morning, Piper challenges Drew to a duel to be head counselor, but Drew grudgingly backs down for she does not wish to fight Piper since she survived an extremely arduous quest. Later Piper video chats with Gleeson Hedge, Mellie and her dad who remembers nothing of his ordeal and thinks Piper is in a special school. Then Piper shares a moment with Jason, in which she accepts that she loves Jason, but she doesn't know if he feels the same way. Later, she heads into the woods with Jason, Leo, Chiron and the Hephaestus' Cabin, as Leo shows them Bunker 9. As the book draws to an end Piper hears Jason say that it is most likely that Percy Jackson is at the Roman camp, called Camp Jupiter.
Leo Valdez and the Quest for Buford
Two months after the events of The Lost Hero, Piper and Jason are summoned by Leo Valdez to aid him in recovering Buford, the walking cabinet who wandered off carrying the syncopater for the Argo II. Without the syncopater, the ship will blow up within an hour, taking Cabin 9 and a significant portion of Camp Half-Blood with it.
They then set off to recover the object, but their path is complicated by the appearance of Maenads, cousins of the naiads and dangerous followers of Dionysus. Piper utilizes her charmspeak to confuse and delay the Maenads until the appropriate moment where Leo develops a trap to capture all of them in one sweep which frees him to install the syncopater on the Argo II and prevent its imminent explosion.
To see this text, hit the "Expand" link to the right.
Piper makes a brief appearance in a dream of Percy Jackson along with Jason Grace and Leo Valdez as they construct the Argo II, though Percy at that time was unsure whom she was though he thought it was likely that she was a friend of Jason. Later, her voice is heard calling Leo a "repair boy" when he asks her what his title is during a video message to Camp Jupiter, asking them not to blast them out of the sky. By the end of the book, she sets out to meet the rest of the seven demigods at Camp Jupiter.
Earlier in the book when Polybotes and the Giant Army are marching toward Camp Jupiter, Ma Gasket is shown to have reformed and joined the army. She complains that the purple and orange ones destroyed her home and she wants revenge against Piper, Leo, and Jason. While the name Jason sounds familiar to Percy, Hazel, and Frank, they don't know who Leo and Piper are.
To see this text, hit the "Expand" link to the right.
Piper is on the Argo II, practicing her lines for when they land at Camp Jupiter. While using charmspeak to talk about lowering their weapons and talking, Annabeth Chase almost put down her knife to have a talk showing the strength of her charmspeak. When Terminus arrived she tried to charmspeak him but instead, being a god, he was unaffected and instead tried to slap the knife out her hand, despite having no arms. He is then calmed by Jason.
After the welcome feast Camp Jupiter begins, Leo (who was possessed by an Eidolon) begins to attack Camp Jupiter. Jason goes unconscious after saving Piper from a brick that was about to hit her which was thrown by an angry mob of Romans. Thus, Piper takes care of an unconscious Jason. To pass the time, she looks through her dagger Katoptris despite not wanting to and sees the sign Topeka 32, the Romans preparing an attack against the seven, and the most unsettling image: her, Jason, and Percy all drowning. After Jason wakes up, and Hazel and Leo are back, she goes with Percy and Jason to Topeka 32 in Kansas. They meet Bacchus there who tells them to go see Phorcys because he knows information about Gaea. Afterwards, he disappears.
Immediately after, Gaea tells Piper that she wants her and either Jason or Percy. She tells Piper she must choose between who should die, and if she doesn't, Jason and Percy will have to fight to the death, when an Eidolon begins controlling their bodies. Jason battles Percy with Tempest, while Percy battles with his Pegasus Blackjack. Percy knocks Jason out and is about to kill him. Unable to stop the two from fighting, Piper tells Blackjack to knock Percy out, which he does so. The eidolons are then charmspeaked by Piper and leave. Blackjack carries all three of them back to the Argo II.
After Percy and Jason wake up, the seven have a meeting, discussing Annabeth's quest, what they learned from Bacchus and who possessed Leo, Jason, and Percy. Piper charmspeaks the Eidolons to leave their bodies and never come back. Even though they know now that it wasn't Leo's intent to hurt the Romans, they have no proof to tell them.
After the seven leaves Atlanta, they dock at Charleston Harbor, Hazel, Annabeth, and Piper agree to go find the southern belle ghost Piper saw in her dagger. They find the ghost, who turns out to actually be Aphrodite/Venus. The girls have tea with her and Hazel asks whether she is Aphrodite or Venus (Piper gets embarassed by her mother's antics with the other two girls). Aphrodite tells her she is both because love is universal and that's why she isn't that involved in the ongoing war. Hazel denies that there is any war yet. Aphrodite then explains that when Athena told Annabeth to avenge her, she meant to get her statue, Athena Parthenos.
After getting back on the ship, the Argo II finally sets sail to the Mediterranean Sea and Rome. Once they finally reach there, they see the Pillars of Hercules, and Hercules is guarding it. Piper and Jason decide to go talk to the god. Hercules will allow them to pass only if they steal Achelous' horn to humiliate him since he was unhappy that Hera was sending them on the quest, since he hated Hera and thus wanted their quest to fail.
When the two demigods get to Achelous River, they hear a peaceful hypnotic singing come from Achelous. Achelous figures that they are here to take his other horn, but Achelous explains why Hercules does not deserve it. Despite feeling bad, Jason and Piper still attempt to take the horn, which Achelous retaliates at by trying to drown them. Jason gets pulled under, so Piper tries to bargain with Achelous and tried to charmspeak him. Achelous believed she wanted to become his bride in trade for Jason's life. When he picks her up, she threatens him that he must let Jason go and she proceeds to cut his second horn off. The two demigods escape after Jason electrocutes Achelous .
Upon their return, Hercules allows them to pass through. He also asks for the horn, however Piper does not give it to him, because Hercules does not deserve it. She and Jason manage to fly back to the Argo II after bruising the god when the horn turns into a cornucopia which spouted a pile of food at him. While flying off, Hercules continues to throw food at them, but they nevertheless escape all the attacks and finally get back to the Argo II.
Later on in the journey, Piper is shown tied up and gagged, kidnapped by Chrysaor, whose ship rammed into the Argo II. He tells the seven that he has plans on selling Piper and Hazel to Circe while giving Percy and Annabeth to Gaea. Percy stops Chrysaor from doing this, by scaring Chrysaor's crew of dolphin men, telling them that their captain is Dionysus, who turned them into dolphins in the first place. Frank then shapeshifts into a dolphin, scaring all of the crewmen back onto their boat. Chrysaor, though not scared, is forced to retreat along with his crewmen.
After Annabeth and Percy prepare for Annabeth's quest in Rome and Frank, Hazel, and Leo are off in the city, Piper, Jason, and Coach Hedge are left on the Argo II. Piper plans a picnic for her and Jason using the cornucopia. A birthday cake comes out along with the rest of the food, Jason admits it is his birthday. Percy returns a little later and asks Piper if they can find the giants through Katoptris. She, however, sees the Romans forming an invasion plan, a spiral staircase near the forum, the same place where her, Jason, and Percy are drowning. They set out in search for the staircases.
When the three do find it, Percy volunteers to go first, in case the place is flooded. When he comes back, he says he found a Nymphaeum. Soon afterward, the nymph Hagno and the nine other nymphs who nursed Zeus when he was younger appear and flood the chamber with magic water, which took away Percy's ability to breathe underwater. Piper decides to funnel her, Jason, and Percy's energy into the cornucopia, releasing clean water and age the nymphs back to youth. The nymphs give them their powers and strength back and tell them whereabouts of Ephialtes and Otis.
They arrive at the twin giants' lair where Nico di Angelo is. Piper defends Nico against all the releasing monsters, while Percy and Jason go against the Giants. The Giants released a Hydra, leading to Percy setting a stack of fireworks off, destroying the Hydra, as well as knocking out Piper.
After being nursed back to health and after defeating the giants with the help of Bacchus, Piper and the rest go and search for Annabeth. When they get there, Piper works to grab Athena Parthenos and get it on the Argo II. She manages to do so but fails to help Percy and Annabeth from falling into Tartarus, which she feels bad about. Leo encourages them all that they will find Percy and Annabeth and tells Festus to start the engine towards Greece.
To see this text, hit the "Expand" link to the right.
Piper is at the helm with Coach Hedge. She is tied up and gagged, along with Coach Hedge, when the Kerkopes board the ship, they steal Piper's knife, the Archimedes sphere, Leo's tool belt, and other things. Jason rips her gag off, but on her command, leaves with Leo to get their stuff back.
Piper is talking to Jason and Leo on the deck of the Argo II. She tells them about the vision she has been seeing in Katoptris, and shares her predictions about a line from the Prophecy of Seven: To storm or fire the world must fall. She explains why she thinks Jason is the storm, Leo is fire, and Gaea is the world that must fall. She also says that she thinks that the three of them will be the final strike, as it started with the trio on their first quest to save Hera.
Piper starts to wonder why the weather has been so cold lately, as it is summertime. She soon realizes why, but does so too late. Khione soon shows up with her two brothers Zethes and Cal. She sends Leo to Ogygia and freezes Jason and the rest of the crew below deck, but allows Piper to stay as she has been claimed by Zethes, despite the fact that Khione hates her very deeply for what she did in Quebec. Khione starts to tell Piper about her plans with Gaea, and how the Earth Mother will soon re-create the world as she sees fit. Zethes then mentions the bomb that they had planted that would let out strong winds that would blow the Argo II far off course. Piper, trying to think of an escape plan, is soon reminded of fire and how it is Khione's only known weakness. She then remembers Festus, and knows how he can "blow some serious flames," though she needs to figure out a way to reactivate him since Leo turned him off. Piper then says that she supposedly has a secret, knowing that Khione would demand to know what it is. Piper then places her hand on Festus' neck, and says some things about the dragon, putting all the confidence she has into her words. Festus wakes and torches Zethes and Cal while she charges towards Khione with her knife, and drives it into her chest, causing her to explode. She dives for the bomb that Zethes had told her about, but grabs it right as it explodes. The winds burst out and blow the Argo II all the way to the southern tip of Africa.
After they finish their repairs and Jason flies the Argo II to Greece, they meet up with Leo. They then head to the Necromantium where Leo and Hazel get separated from the rest of the group. Piper, Jason, Nico, and Frank fight off monsters while Jason gives Frank his position as Praetor. They meet up with Hazel and Leo after Annabeth and Percy come out of the doors of death. The seven and Nico fight Clytius before Hecate comes to finish him off. With the temple about to collapse on top of them, Nico and Hazel shadow travel the group to the surface where they meet up with Reyna and have a picnic and talk about what to do next. The seven decide to go east to mount Olympus to stop Gaea from waking While Nico shadow travels the Athena Parthenos west to Long Island to prevent the civil war. Later on the Argo II, Hazel is telling her and Annabeth how to fight with a sword.
To see this text, hit the "Expand" link to the right.
Along with Jason and Annabeth, Piper infiltrates Odysseus's palace with the help of Hazel's magic. Later, Piper volunteers to be one of the four demigods going to subdue Nike. She wants to try to use charmspeak on the goddess, however, Annabeth says that Nike may see Piper as a threat.
Piper had a conversation about Jason with her mother the night before the mission, and Aphrodite had given her a glimpse of the future. Afterward, Frank and Piper scour the port of Pylos to find the poison with no luck. Piper uses her charmspeak on a ghost to get directions to Frank's relatives, the fellow descendants of Periclymenus. Frank receives a vial of Pylosian Mint from one of them. Piper and Frank return to the Argo II, where Piper says she saw a vision of her and Annabeth exploring ruins in her knife, Katoptris. The ship lands in Sparta, and the two girls set out to find the chained god's heartbeat. In the shrine of Phobos and Deimos, they face a giant called Mimas, who was born to slay Hephaestus. Piper and Annabeth defeat the giant with emotions, not rationality. Piper summons the makhai, the spirits of battle, and they kill Mimas.
With Leo and Jason, Piper visits Asclepius, the god of medicine. She convinces Asclepius to help them by using her charmspeak, and the god gives them the physician's cure after a bit of considering.
The Argo II flies to Athens. With the help of the Gemini, she, Annabeth, and Percy go to the Acropolos using an underground route. Using her charmspeak, Piper finds out that King Kekrops (the king of the Gemini) really intended to deceive the demigods and destroy them in the underground tunnels. She successfully convinces him not to go through with the plan, and the three infiltrate the Giant Army disguised as Earthborn, and begin to disable onagers. However, Percy and Annabeth are seen and captured by the giants, while Piper remains undiscovered. Just as Percy and Annabeth are about to be sacrificed, Piper interferes, and the Argo II crew begins attacking the giants. Still, with the full force of the seven demigods, they could not be defeated without the gods and are surrounded.
The gods soon join the battle, but it was a little too late—Gaea was already awake because Percy's nosebleed ended up falling on the ground. However, they successfully defeat the giant army with the assistance of the gods. Piper fights Periboia with her mother's help. After the battle, Piper questions why the gods need them to finish off Gaea if they are so powerful. Her mother laughs and kisses her, explaining that the gods need demigods as much as demigods need them, as difficult as it is to admit.
The seven demigods return to Camp Half-Blood with Zeus's help. There, they find Gaea awake and the Greek and Roman demigods fighting a horde of monsters. Leo snatches Gaea's body into the air with Festus, and Piper and Jason join him. Piper uses her charmspeak on Gaea, trying to get her to sleep. Leo then blows up Gaea with help of Octavian's onager blast, and everyone assumes he was killed from the blast. Piper was devastated that she could not save him.
Piper, along with Annabeth and Reyna become inseparable following the battle as they work together to smooth friction between the two camps. Before the legion leaves back to Camp Jupiter, Piper asks Reyna what she was told in Charleston two years before by Aphrodite. Reyna tells Piper that Aphrodite was told her that she would end up being alone. Piper curses her mother and tells Reyna that she does not need a boyfriend. That night after the legion leaves Jason takes Piper to the top of Cabin One where there is a secret passage to the roof. While on the roof they kiss passionately.
Right after finishing his narration of this book, Percy reveals that after the events of The Blood of Olympus, he, Piper, and the rest of the Seven started the tradition of monthly Argo II reunion parties, and he is quite worried about being late to the current one.
Between the Series
Several days after the death of Gaea and Leo's death and resurrection, a parchment scroll with a holographic message, sent from the resurrected Leo, came fluttering into Camp Half-Blood on the wind. Piper and Jason while angry at Leo for his long absence, are extremely relieved to learn that he is alive, and both of them spend most of September searching for Leo, Festus, and Calypso.
Eventually, however, Chiron persuades them to resume their school year, and so Piper and Jason depart to a school in Los Angeles (where her father Tristan McLean now lives), taking Gleeson Hedge, Mellie, and Chuck along with them.
They eventually learn that there is a mythological force behind the wild fires and explore the Labyrinth. Jason runs into Herophile who tells him that if he and Piper pursue Caligula, one of them will die. He does not tell her and ends the quest and they return home.
Sometime later Piper breaks up with Jason due to feeling that their relationship was forced onto them by Hera and her mother and wanting to live for herself even though later after he dies, Piper states that she still loved him.
Piper is not present at Camp Half-Blood when the human Apollo and Meg McCaffrey arrive, so Nico di Angelo explains where she and the rest of the Seven are now while showing Leo's holographic message. In the story, it is noted that Jason and Piper are together in Los Angeles, studying after an unsuccessful search for Leo.
Leo mentions Piper when commenting on Emmie's tofu enchiladas. Lityerses mentioned her when confronting Apollo and Calypso at the Indianapolis Zoo.
To see this text, hit the "Expand" link to the right.
The Triumvirate Holdings, specifically Caligula, has filed many legal papers against Tristan McLean and has caused Piper's family to lose almost everything except their house in Tahlequah, Oklahoma. She and Jason went to explore the Labyrinth and became separated. They met up again and he would not tell her what he found. The two eventually broke up.
As movers are emptying their house, she is visited by Apollo, Meg McCaffrey, and Grover Underwood and they talk outback. She tells them how her father has lost everything due to Triumvirate Holdings and will be on Oklahoma by the end of the week. She agrees to join them in finding the Oracle of Erythaea. She gets her weapons and leaves with the others to enter the Labyrinth. She charmspeaks Mr. Bedrossian, her neighbor, to let her borrow a car like she did before she went to Camp Half-Blood and they head to downtown Los Angeles. She leads them to the entrance and shoots the guard with a poison dart. After the poison takes effect, she leads everyone to a service elevator and into the labyrinth. They wander around and run into two of Grover's scouts, Meg and Grover they to heal them but feel it would be easier on the surface. She, Meg and Apollo continue on and find an abandoned parking garage where they run into Medea. They two exchange a brief Wars of wards and she warns her companions they are being persuaded by her. The sorceress unleashes her dragons on them. She and Meg take out the dragons, however, Medea traps the others and teases Piper with what Jason was told by the oracle. Piper baits her into a fight and she chooses her blow dart tube as her weapon while Medea chooses Helios. The fight moves quickly with the daughter of Aphrodite receiving severe burns that she could die from hours later. Apollo tells her to shoot Medea with a blow dart and she hits her shoulder. Helios states to intensify his heat and the three flee.
They make it to the surface and pass out. They are taken back to Aeithales for better healing. They agree to ask Jason what the oracle told him and to steal Caligula's boots of guidance. In the morning she drives Meg and Apollo to Jason's school in Pasadena. She leads them to his class and they head to the son of Jupiter's dorm room to talk. He tells them what the oracle told him, but she knows he is holding back. She and Meg go to the office to get out of school while Apollo helps him pack.
She borrows a school van after their borrowed car was towed. They drive to Santa Barbara and search Stearns Wharf. During dinner they see a fleet of yachts form a blockade around the harbor with mortal military and law enforcement helping with security. They agree to search the center ship. She talks some mercenaries out of a dingy and they take it. When they reach the center of the blockade Jason flies her up first. The two are quickly captured and, with Meg and Apollo, are taken to an interrogation room to hear their story. On the way she sees a painting from her house. After Meg tricks the Pandai into revealing the locations of the boots and Caligula, the daughter of Demeter attacks. She and the others take out all but Crest and separate with her and Apollo going after the shoes while Meg and Jason go after Caligula. Apollo dresses her head would and they head out. They go a few boats without being noticed and when they are she sings with Apollo playing the ukulele. They stop in Caligula's wardrobe boat and rest in a dressing room. Piper tells Apollo that even though she likes Jason, she feels their relationship was forced into them by Hera and continued due to her mother. She also feels that she is not Cherokee due to the tribe's matrilineal views of descent. She says she wants to define herself by herself and Apollo agrees to that. She wants to know what she wants without people pressuring her. They make it to the shoe boat and get the location from the guards. They find the room and the shoes, the same sandals that gave Caligula his nickname. They are found and told by Crest that Meg and Jason have been captured. Before they can move she and the Pandos are knocked out by Incitatus to be taken to Caligula with a wounded Apollo. She is slung over the horse's back and taken to Caligula. She is awakened by Caligula in his throne room and held in a standing position. She collapses on the floor again and watches Apollo stab himself. She punches Medea and helps Apollo up. They watch in despair as the emperor kill Jason and flee on Tempest.
They arrive at her house. She refuses help from Apollo but accepts ambrosia from Meg. After Tempest brings Jason to them, they suggest ways to heal the deceased son of Jupiter to no avail. Her father arrives and tells the others to use the landline to call an ambulance. She angrily tells Apollo to leave, blaming the former god for having involved her and Jason in the quest, which caused his death.
Just as Medea is about to kill Apollo, she arrives with the Meliai and stabs Medea in the back before pushing her into the flames of Helios. She tells them she received a message from a cloud nymph and hunt to the labyrinth entrance and, with the help of the elder dryads, took out the security and found the room they were in. She notices the prophecy on the floor after Meg points out the message, tells Apollo he needs the help of Reyna. They exit the maze and are surrounded by Incitatus and a dozen Pandai. She is stopped from attacking by Herophile. There would be executioners are killed by the Meliai, she goes back to Malibu.
The next day Piper meets up with Apollo and Meg at an airfield in Santa Monica Beach and gives them the plane to take themselves to Camp Jupiter while her family and the Hedges drive to Oklahoma. When Leo arrives she tells him about Jason and he tells her about Camp Jupiter. He insists on taking Piper to Oklahoma on Festus as it is on the way back to Indianapolis.
Piper is mentioned when Hazel Levesque, Lavinia Asimov, and Don Meet with Apollo and Meg McCaffrey. When Apollo, Meg, Don, and Lavinia enter the Caldecott Tunnel, carrying Jason Grace's burial shroud, they run into Hazel. Hazel demands who is in the casket, but she can tell that from Apollo's expression that it wasn't good. When she realizes, she starts to sob, and says that she had dreams about Caligula's boat. Hazel continues to cry and asks "Why did you do this? This isn't fair to Piper."
Piper is visited by Apollo back in his godly form in Oklahoma, kissing a girl called Shel. She then talks with Apollo, and explains that she and her father are adjusting well to Oklahoma and the daughter of Aphrodite congratulates him before she returns with Shel.
Personality
Piper McLean is a calm but rebellious spirit who is always loyal and protective of her friends and isn't afraid to stand up for them. Piper has always followed her heart and is also a leader, as she is the counselor of Aphrodite cabin. Her disagreement with the rite of passage and how Drew bullied her siblings shows that she doesn't like cruelty. She stands for her beliefs and fights to right the wrongs in her cabin.
Piper was very caring and loving towards her ex-boyfriend Jason and was frightened, sad, and angry at anything that may pose a threat to her bond with him, such as when Drew claims that Piper needs to break his heart as an initiation into the cabin. She was greatly saddened by the possibility that her first relationship with Jason was a Mist-induced illusion and breaks down in tears when Annabeth asks her what Jason's last name is (which she doesn't know). She also likes to touch Jason in affectionate and loving ways such as holding his hand, leaning against his chest, resting her head on his leg, wrapping her arms around him and having his arms around her. These memories are much sharper to Piper because she is a daughter of Aphrodite, so she can sense possibilities. She also seems to have a soft spot for her friend Leo Valdez. She does tend to be quite possessive over Jason during certain times, including when he wore purple, the color of the Romans, and when talking to Annabeth during the campfire, and she gets jealous rather easily. She can be a bit impulsive and acts before thinking, but does so with positive intentions, like bringing Jason and Percy to the Nymphaeum despite her vision.
While generally kind to others, Piper's biases can cause her to seem shallow and prejudiced to others. She does not have much in common with typical children of Aphrodite, and did stereotype her mother and siblings on occasion. She tends to avoid strong femininity, not acting so herself and subconsciously judging others that are very feminine, not particularly liking the pink, lace, and strong scent of perfume found in the Aphrodite cabin.
Piper is kind and compassionate to her friends and has a good perception of other's feelings as a daughter of Aphrodite. She's stated to be a good comforter, comforting others with both support and sympathy and occasionally calming them down with her charmspeak. Piper is spirited, and can be seen as almost aggressive to those around her. Her strong compassion and empathy for others lead her in most decisions. Piper is somewhat tomboyish, stating she does not care about her looks, but tending to feel insecure about her appearance throughout the series. She occasionally charmspoke some of her closest friends to make them feel better, but stopped doing so as often after learning the harmful effect it has (as stated during the confrontation with Medea). She tends to be laid-back most of the time but is also shown to have a fiery temper, like almost smacking Drew for insulting her hair, almost starting a fight with Isabel and her friends, and stating she "caused fights often" when asked why she got kicked out of schools. When claimed by Aphrodite, she is upset that she can't get rid of her makeup or her new hairstyle and finds it to be annoying, to say the least.
While a compassionate person, Piper has a tendency to consider her own wants and needs when making a decision to a healthy level, like wanting Jason to be with her instead of leaving to his old home, wishing for her mother to continue 'influencing' Jason, being upset at losing her and Jason's Mist-induced relationship with Jason getting his memories back, initially disliking Reyna for her past relationship with Jason, not going to Jason's funeral, and getting a girlfriend only three months after he died. She was also concerned about Jason losing his memories of her, along with his memories in general after he got hit in the head with a brick, and was worried about the Greeks and Romans uniting out of fear that Jason would leave her. Piper was also focused on her relationship with Jason, and thought about him during quests.
Overall, Piper's personality is one of a kind. She is very caring and has a great sense of humor. Her mood can change when things get serious, and she feels normal fear which most heroes won't admit. She's open and brave when she needs to be, and a great, compassionate friend.
Appearance
In The Lost Hero, Piper was first described by Jason to be a beautiful girl of Indigenous (Cherokee) descent, with chocolate-brown hair that was cut choppy and unevenly, and had thin strands braided down on the sides. Her eyes seemed to change color like a kaleidoscope, going from brown to blue to green, and she was dressed in a fleece snowboarding jacket, faded jeans, and hiking boots. Though she wore no makeup, and had facial imperfections (such as pimples, namely one at the base of her nose, which had been there for some time that she even started to call it Bob), she was still so beautiful that she drew attention even when trying not to.
After Piper was claimed and subsequently blessed by Aphrodite, she temporarily became the most beautiful girl in Camp Half-Blood--her hair turned lush and long, braided with gold ribbons down one side so it fell across her shoulder, and she wore perfect makeup that made her lips cherry-red and brought out all the different colors in her eyes. Her skin also became perfect, she was adorned in a beautiful, sleeveless, ankle-length white gown with an embarrassingly low V-neck, and her biceps were circled by delicate gold armbands, while an intricate necklace of amber, coral, and gold flowers glittered on her chest. Her pimple also disappeared too. Piper thought that she looked like a Cherokee Barbie and wanted her old look back but after trying everything, nothing worked. Jason Grace even exclaimed that she was "beautiful" and "a knockout" in front of the whole camp, and though Aphrodite's blessing faded later on, he thought that she looked more beautiful without makeup and her hair back in its old choppy style, and it seemed that her facial imperfections had still permanently vanished.
In The Blood of Olympus, when Piper used her charmspeak to its full potential, Leo observed that her smile was "so warm it would've melted the Boreads".
In The Burning Maze, Apollo describes Piper to have a "finely chiseled nose", "perfect complexion", and a "softly curved physique."
In the end of The Burning Maze, Piper cuts off her hair into an very short and choppy style that reminds Apollo of Thalia Grace.
However, despite her stunning beauty and her parentage, Piper is described as having a relatively simple, tomboyish style most of the time even though she dresses and braids her hair in intricate styles.
Abilities
Weapons/Items
Relationships
Love Interests
Rivals
Friends
Family
Etymology
Piper is an Old English name meaning "pipe player," a possible reference to her ability to charmspeak and the story of the pied piper. According to her Grandpa Tom, he named her that as she had a high vocal voice when she was a baby, also saying that one day she was going to play the biggest tune of them all. Piper is also a synonym for a squab, particularly that of a dove or pigeon. Interestingly Piper's mother is called "Lady of Doves."
McLean is a Scottish or Irish surname that is a variant of the name "McLain", which is rooted in the Gaelic "Mac Gille Eáin" meaning "son of the servant of John".
Trivia
She got her name because her grandfather thought she would one day master all the Cherokee songs, including the snake song. Her father liked the idea and named her Piper.
Percy, Piper, and Annabeth are the only demigods of the Seven whose mortal parents are alive.
She sometimes calls Jason "Sparky".
Piper was the first Head Counselor to be promoted, who had other siblings, in less than five days. She is also the first half-blood in both series to challenge another for the right to become Head Counselor.
Piper became a vegetarian after driving past a meat-processing plant in Chino when she was younger.
Her cornucopia is able to channel her emotions and depending on their power, spill out more or less food.
Piper dislikes the term half-blood due to her being called one for years, as other kids made fun of her for being half-Indigenous and half-white.
Piper's role in The Lost Hero is vaguely similar to Hazel's in The Son of Neptune, as they both have a crush on a member of the quest, as well as possessing a dark secret. However, Piper is much more open about her crush than Hazel.
There is somewhat an inconsistency in Piper's clothing in the American cover of The Lost Hero. She appears to still be wearing the dress Aphrodite gave her when she was claimed while she already changed it prior to riding Festus and going to Boreas castle in Quebec.[1]
Unlike the rest of Aphrodite's (known) daughters, Piper is a tomboy.
It is thought that her charmspeak saved Jason's life when he saw Hera's divine form. The actual reason this worked, though, was that Thanatos (Death) was chained at the time. This was revealed in The Son of Neptune.
She is called the "Mediator", by her mother Aphrodite, for when the two sides of demigods, Greek and Roman, will meet, she will have to mediate them, since she has the ability of charmspeak.
She is the only one of the new main characters to have her mortal parent still alive.
She is also the only new main character with a mortal father.
Drew calls her the Dumpster Queen (for her lack of form and her simple clothes, the very things Jason likes about her) and Miss Movie Star (for when she says her father is Tristan McLean).
At one point, she was interested in being a Hunter of Artemis, but she lost all interest after learning she'd have to swear off boys.
Before receiving the blessing of Aphrodite, Piper had a pimple on the base of her nose that had been there for so long, she began to call it Bob. However, Bob disappears after her claiming.
In her official portrait by Antonio Caparo, an image of Enceladus is reflected in her dagger.
Piper's first chapter in The Lost Hero is the first time in both series we don't hear from a child of the Big Three.
Piper is the first female to have a point of view in the Camp Half-Blood series. She is also the second female in the Riordanverse to have a point of view, the first being Sadie Kane in The Kane Chronicles.
Piper is the only character whose face you can't see clearly in her official portrait, as she is shown from the back. You can see part of her face in her knife however.
In Percy Jackson's Greek Gods when he is reflecting on a story, Percy mentions that he now understands what made Piper a vegetarian.
In The Burning Maze, it is revealed that Piper has a cousin from Tahlequah who is a blowpipe champion.
She is mentioned in the introduction of Race to the Sun. Rick Riordan revealed that Piper McLean was inspired by conversations he had with Native kids during school visits, he did hundreds over the years. The kids asked him if he could add a Native hero to Percy Jackson's world, they wanted to see themselves reflect at Camp Half-Blood because they never found themselves in popular kids' books.[2]
Her birthday is June 3rd.[3]
Gallery
References