Polearmsmanship is the ability to fight with a pole arm, such as a lace or a spear.
Description
Most polearms are used in a trusting motion to stab an opponent. They can also be used for slashing from a distance. Depending on the type of pole arm, it can be thrown at opponents with great accuracy.
Users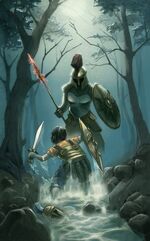 Community content is available under
CC-BY-SA
unless otherwise noted.