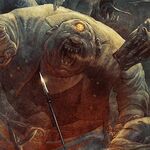 Polyphemus' Cave is a cave on an island in the middle of The Sea of Monsters. Polyphemus, the Cyclops, uses it as a home for himself and the sheep that live with him on his island. He also used it as a prison for Satyrs and anyone else he wanted locked up. The front door was a boulder, but Annabeth was distracting him by taunting him while she was wearing her magic Yankees cap so she was invisible to Polyphemus. That made Polyphemus pick up his front door, and throw it in the direction he heard her voice, breaking the boulder.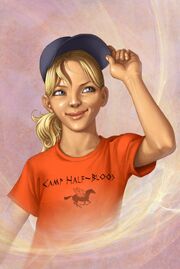 History
It is assumed that it is the same cave that Odysseus and his men were trapped in, but escaped by blinding Polyphemus.
Grover Underwood was taken to this cave after he tricked Polyphemus into thinking Grover was a female Cyclops who wanted to marry him. Grover then pretended to make a wedding dress, but unraveled it every night, while creating an Empathy Link with Percy, telling him that Polyphemus has imprisoned him on his island in the Sea of Monsters and that he needs rescuing but also that he unknowingly found the cure for Thalia's Tree. After Clarisse La Rue tries to rescue Grover and take the Golden Fleece back to Camp Half-Blood, she is imprisoned in the cave as well. At the same time she reveals to Polyphemus that Grover is not a Cyclops but a satyr. Percy and Annabeth eventually break in and saved them both from Polyphemus, who now wants to marry Clarisse and eat Grover. Polyphemus' cave is full of sheep collector items.
Film
Grover was kidnapped by Luke Castellan's men and taken to Polyphemus' cave, which was located in an amusement park previously owned by Circe. Percy, Annabeth, Clarisse, and Tyson break in to the cave and defeat Polyphemus, with the help of Grover.
Community content is available under
CC-BY-SA
unless otherwise noted.