Jurassic World: Dominion Dominates Fandom Wikis - The Loop
Play Sound
Polyphemus' island is an island in the Sea of Monsters. It is where Polyphemus the cyclops and his sheep live. It also contains his cave and the Golden Fleece which he "stole" from heroes long ago. The island in now located in the Bermuda Triangle.
Polyphemus the Cyclops lives in a cave on this island. He captured Grover in "St. Augustine's Bridal Boutique" and Grover pretended to be a female Cyclops so Polyphemus wouldn't eat him. Polyphemus fell for the trick because he can't see very well, due to Odysseus who partly blinded him by jabbing him in the eye. When Polyphemus discovers that Grover is a satyr, he decides to eat him and marry Clarisse instead.
Polyphemus' island is described as being a beautiful island that looks like a Caribbean postcard, apart from the scary crevice separating the cave and the non-man eating sheep from the beaches and the man eating sheep. Polyphemus the Cyclops lives there. Grover is held captive in his cave and later Clarisse is held captive too. Percy and Annabeth sailed to the far side of the island and climbed up the steep cliff in order to avoid Polyphemus' Sheep, who ate anyone that entered their territory. They eventually found Clarisse and Grover trapped by the giant, so they thought up a plan to save them.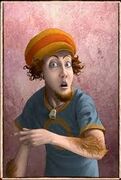 Annabeth used her invisibility cap to sneak in his cave while Percy held on to the bottom of a sheep. Annabeth then yelled out that she was "Nobody," and Polyphemus broke into a blind rage, resulting in him tossing the rock that help Clarisse and Grover captive. Percy than managed to defeat the cyclops with help from the others and asked the giant for the fleece. While originally appearing cooperative, Polyphemus double crossed the group and almost killed them until Tyson arrived on the island and hit Polyphemus with a rock, sending him over the cliff. Tyson then lured the deadly sheep away from the others after grabbing the fleece, while everyone else left the island toward the Queen Anne's Revenge. Percy and Tyson gave the others some time while they fought Polyphemus on the beach of the island. They managed to escape the island, but Clarisse's taunts allowed Polyphemus to hit their ship with a rock and sink it. Thankfully, a pod of Hippocampi arrived and took the group away from the island.
Trivia
The island is located at 30° 31' N and 75° 12' W.
When talking about the shape of the island, Percy says it looks slightly like "a saddle cut in half". This is a reference to the shape of Sicily, which was considered the island where Polyphemus and other Cyclopes lived in some mythological tales (such as Homer's Odyssey).