Quintana Roo is a state in southeastern Mexico.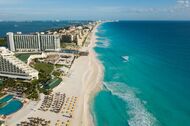 After defeating Ah-Puch, Ixtab sends Zane Obispo and his family to Isla Holbox, an island just off the northern coast of the state, to hide them from the gods.
Isla Holbox is the setting of the beginning and end of the novel.
Zane returns to Isla Holbox after three months of searching for godborns.
Trivia
Quintana Roo is the eastern most state in Mexico.