"
And I don't have to see the future to tell you what to do now, do I?
"

–Rachel to Percy, in The Last Olympian.
Rachel Elizabeth Dare is the seventeen-year-old daughter of Mr. and Mrs. Dare. She is the current Oracle of Delphi. 
History
Rachel comes from a rich and well-known family. Her father is a highly accomplished businessman and her mother is a social worker. When she was six years old, her pet hamster died, which resulted in her family calling Dr. Arkwright, a therapist, to help her get over her hamster's death. As she grew up, Rachel developed a rocky relationship with her parents, especially her father because of his business tears down wildlife. Her father's actions played a part in the fading of the wildlife god Pan.
Percy first meets Rachel at the Hoover Dam, where he mistakes the sound of her blowing her nose for a skeleton soldier speaking, and tries to run his sword through her, but it doesn't harm her because she's mortal. She sees that Riptide is a sword, and Percy is dumbfounded that a mortal is seeing through the Mist. Rachel then sees the skeleton soldiers and tells Percy to hide. He runs into a bathroom, and she fakes her emotions and appears freaked out, then tells the skeleton soldiers that 'some guy with a sword' ran in the other direction so that Percy won't get caught. They believe her, and after they leave, Percy tells her to forget what happened. She tells him her name and asks for his. His answer is "Percy... gotta go!"
Percy does not see Rachel again for the rest of the book, and he assumed she lived near Hoover Dam although it is later revealed that she lives in New York.
Percy runs into Rachel at the orientation of his new school, Goode High School. He tries not to run into her again because that will cause awkward questions. But, instead, she finds him and warns him about the two cheerleaders that have been following him who are actually empousai: monsters that are 1/3 vampire, 1/3 automaton, and 1/3 donkey.
They hide, and Percy tells Rachel that the Greek gods are real, and just about when he is going to tell her that he is a demigod, the cheerleaders find them and attack.
After a skirmish with Kelli and Tammi, the two empousai cheerleaders, there is an explosion, and Rachel rushes Percy out the back exit, and they run into Annabeth Chase. Rachel tells Percy to run, and that she will make up some story. She writes her phone number on his hand with a permanent marker, telling him to call her, because he owes her an explanation, and much to Annabeth's dismay, Percy ends up memorizing her number.
Later, after wandering through the Labyrinth for a while, Percy goes to her for help in navigating Daedalus' Labyrinth in order to locate Daedalus. She sets off with Percy and Annabeth through the maze because they need her help. The demigods are worried someone will try to find her, but she explains that no one would care if she were gone and leaves it at that. After finding that Daedalus has struck a bargain with Kronos, she escapes with Percy and Annabeth and Nico di Angelo whom the empousai captured. Eventually, they find Kronos' headquarters. Kronos has, however, inhabited Luke Castellan and attempts to chase Percy down. Rachel appears with Annabeth and Nico. She throws her blue hairbrush at Luke's face, which momentarily confuses Kronos, who then answers in Luke's voice. She also mysteriously manages to convince a limousine driver to ditch his client and take her and the others around to look for an entrance into the Labyrinth. She also assists in finding the lost god Pan and is present for his death. Later she parts ways with Percy, Annabeth, Nico, Grover, and Tyson, but not before revealing that her father is a wealthy businessman who buys up land and turns it into malls. Pan's death affects her, mainly because of her father's job. She expresses interest in hanging out with Percy again, to Annabeth's dismay. Percy promises to call her and mentions that he has memorized her number, much to Rachel's delight. Later, during his birthday party, Percy laments not thinking of inviting her over but was too afraid to try.
Rachel grows more and more fond of Percy throughout, just as Annabeth grows very jealous of her. Rachel sees that Percy and Annabeth seem to have a lot more feelings for each other than they will admit. She can also see that Annabeth is jealous of her hanging out with Percy, and tries to give him the hint that Annabeth likes him too, but Percy doesn't seem to get it and she calls him "blind" because he is a boy. It is, however, made clear that Percy does have some feelings towards Annabeth, though he is oblivious that she returns them.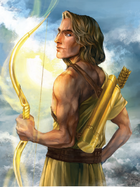 Rachel and Percy are on the beach, driving Percy's stepdad's car around when Beckendorf comes on Blackjack, the Pegasus, to take Percy away so they can bomb Princess Andromeda with Greek Fire. Before he leaves, Rachel kisses him. However, Beckendorf interrupts on Blackjack. Beckendorf later teases about telling Annabeth about it, and Percy responds by saying, "Oh gods, don't even think about it."
Rachel later must go with her parents on a vacation, but she soon realizes something is wrong. She begins painting things she had never seen, such as Luke as a young boy. She also wrote Percy's name, Perseus, in Ancient Greek on the beach in the sand.
During the events of the Battle of Manhattan, the powers of the Oracle called out to Rachel. She began having visions of the battle and flew to New York City during the battle to tell Percy he was not the hero of the Great Prophecy. She also has a vision about a drakon, saying that it was its destiny to only be killed by a child of Ares. Hestia and Chiron helped Rachel in the middle of these revelations.
When the battle is over and she returns to Camp Half-Blood, Rachel realizes that she can take in the Oracle's spirit and decides to become the Oracle of Delphi. Since being an Oracle requires the host to be a maiden, she tells Percy that he is a distraction to her, though she is grateful he showed her the world of the demigods. With the curse of Hades lifted, Rachel successfully becomes the new Oracle.
Rachel decides to still go to school, but shortly before she leaves she recites a prophecy, which is assumed to be the next Great Prophecy. She is shown to be worried about going to school while being the Oracle's host since she might suddenly speak a prophecy in the middle of class.
Piper McLean meets Rachel in the Hera's Cabin when she goes to Camp Half-Blood. Rachel gets taken over by Hera, who gives Piper a message: "Free me." She becomes afraid when Piper faints, thinking she might have killed her. While at the Campfire, she begins to repeat the new Great Prophecy to everyone, but Jason Grace finishes it, except he says it in Latin, making everyone look at him. The other campers begin to ask her if the Great Prophecy has started, claiming she should know because she is the Oracle. She eventually says that it has and some of the seven mentioned are at the campfire tonight while some are not. She also gives them a new prophecy for the Quest for Hera and then collapses into a chair.
While not physically present, Rachel is mentioned several times. She is first mentioned by Annabeth when she recalled her "love story" with Percy. Chiron later mentions that Rachel was comparing notes with Ella the harpy to see if they could stop the invasion.
While in Tartarus, Annabeth uses a Hermes' Shrine to send a message to Rachel to get Reyna to bring the Athena Parthenos to Camp Half-Blood to bring peace between the two camps. Rachel gets the message and she and Grover meet with Reyna and Octavian. While Rachel is able to convince Reyna, Octavian uses the opportunity to take power and plan an attack on Camp Half-Blood. 
Rachel goes to Camp Jupiter with Ella and Tyson to help put together the Sybilline Books.
Chiron sends two satyrs to get her when Apollo arrives. They head to her cave and discuss current events. She tells them about Triumvirate Holdings and how they were involved in both wars with the Titans and Giants. She gets upset at Apollo after learning there are other oracles besides her. She and Percy talk to Apollo when he is about to leave for his quest to find the oracles.  
Whenever Apollo and Meg McCaffrey would free an oracle, she would get her visions back from a short while before losing it. 
A day before seeing Apollo and Meg, three cattle cars filled with livestock appeared in a train yard next door and were being neglected. She calls the authorities but they are unable to see them. At first, Rachel thinks it has something to do with the neighbors but believes otherwise. When Apollo, Meg, Nico, and Will arrive at her house quickly ushers them in and explains the cattle cars to them before they take about Nero. She shows them blueprints of the tower she obtained and confirms that the Fasces vault and holding cells are on the same heavily fortified floor in the central levels of the building and a heavily fortified and guarded water filtration like the system is underneath the building with connections to the sewers, leaving the tower as the only building left standing if Nero destroys the city. After the son of Hades reveals he knows a group of Troglodytes, a subterranean species of expert tunnelers, who can break into the system undetected and sabotage it without Nero knowing, she says she will join them before uttered a prophecy in Python's voice and passing out just as the cattle break into the property. She comes to and Meg supports her until she can walk again. They get out just as the cattle, which Apollo recognizes as the troglodytes natural enemy Taurus Sylvestre, destroy her house. They go to a construction site with a fifty-foot pit and jump onto a crane as some of the cattle fall into the pit and choke to death on their anger. As they question how to deal with the livestock and if Nero is on his way to them, Nico thinks he can Shadow Travel them to safety. As they climb, she asks Apollo about what happened just before the cows attacked. He explained that Python possessed her and completed the prophecy, making his verse a part of it. When they reach the bottom Nico says he can only take two at a time, Apollo and Meg volunteer her and Will as they stay to fight off one of the bulls as it comes down into the pit.
When Nico passes out after getting Apollo and Meg to an underground cavern, they talk about the plan and she expresses her concerns that the longer Python control is the spirit of the Oracle, the more likely he will possess her. When Nico comes to he leaves them to the troglodytes and tells them not to touch their weapons. When the son of Hades calls out to them, the group is surrounded as one of them, the leader Screen-Bling, asks Nico if they are sacrifices. The son of Hades says they are not and gives them a skink instead. Screech-Bling accepts this and takes the five back to his camp. As Nico talks to the leader, she speaks with Apollo and the daughter of Demeter. She suggests calling in Camp Half-Blood to mount an attack on the tower to buy time for the filtration system to be sabotaged. She says she could buy a cell phone and send an email to Chiron and get an attack. Apollo is against this and suggests they lie, but she says it must be true as Python knows if it was fake. He reluctantly agrees as they are called to dinner. As they eat they are given hats with her receiving a pith hat. She and Apollo make a case to the troglodytes that if Nero burns the surface world, their food and hat supplies will be in danger and they could very well be at the mercy of Python. They agree to help until the forest bulls attack and they become enraged. During the chaos, she, Nico, and Will are separated from Apollo and Meg.
They manage to convince the trogs to help them and they disable the Greek Fire filtration system. During the Assault on Nero's Tower, she get glimpses of the future and asks Screech-Bling to find Apollo. She runs into Luguselwa and, after the Gaul gives up her immortality for the fasces, is given the axe and they meet up with Will and Screen-Bling after the trig disables the gas pump. They make their way to the throne room and confront Nero. In an attempt to remain immortal he offers to have Python move out of Delphi, but she declines. When Nero orders his forces to attack, she throws her hairbrush at a germani's eye and later witness Nero disintegrate after Apollo removes him immortality. She helps Will and Nico gather supplies for Apollo's fight with Python and she gives him a kiss on the forehead before he leaves.
Two weeks later when Apollo returns to Camp Half-Blood as a god, she sits with him, Will and Nico at the campfire. When Apollo apologizes about her house, she reveals that it actually worked out in her favor. She explains that her father wanted her to stay at home for a little longer but after it was destroyed, she gets to take a gap year that she plans to spend in Paris studying art. After Nico explains his plans for going to Tartarus to save Iapetus, she utters a prophecy that only Will and Nico hear, the sons of Hades and Apollo only say it does not sound good.
Personality
Rachel is very artistic, witty, and kind. She enjoys volunteering for charity events to help schools in the area to keep their art programs open. She is also very open-minded, being able to accept that Percy is a demigod and that monsters do exist.
Rachel can be very blunt at times and has a habit of talking a mile a minute, which Percy described as "punching him with words." She is very brave, throwing a hairbrush in the face of Kronos' host to escape. Like her parents, Rachel can be stubborn at times, as she doesn't like to accept help from anyone else unless she has no other choice.
Appearance
Rachel is described as being a tall, slim girl with frizzy red hair, a freckled face, and green eyes. She is noticed as attractive by a jealous Annabeth.
Rachel wears over-sized shirts, doodles on her jeans, and seems to poke holes in them when she is bored. In The Battle of the Labyrinth and The Last Olympian, she dresses in gold and paints her whole visible head of the same color for art projects. Percy described her as she had been touched by King Midas and looked "like a million golden drachmas", with the exception of her eyes.
As an Oracle, Rachel walks barefooted. In The Lost Hero, she wears her Clarion Ladies Academy uniform at Camp Half-Blood while giving out the prophecy. In The Hidden Oracle, she starts to straighten her hair and her freckles have vanished.
Abilities
Clear Sight: Rachel has the ability to see through the Mist. Her ability is stronger even compared to demigods, to the point that she can navigate through the Labyrinth and foresee its various traps.
Painting: Rachel can paint with her feet as well as with her hands. She has deep knowledge about historical paintings, to the point she could discuss with someone as smart as Annabeth.
Physical Resistance: Rachel can stand still for extended periods of time while painted gold as a living statue.
Wealth (limited): Rachel can use the influence of her father's wealth to arrange services, though she rarely uses them.
As the current host of the Oracle of Delphi, Rachel obtained the next powers from the earth at Delphi. If that magic is blocked, she, Apollo, and anyone who depends on them for the power of prophecy loses the ability to predict the future.
Prophecy: Though she is a mortal, Rachel always had the ability to see fragments of the future and the destinies of others. After the Second Titan War, Rachel took the soul of the Oracle in order to properly see the past and future, obtain fragments of truth, and make prophecies. However, she doesn't always remember what she said while she is talking possessed by the Spirit of Delphi.
Divine Protection (limited): As the Oracle, Rachel is protected from many unfortunate events such as death even by the gods, though she can be cursed.
Academic Education
Nothing is known about Rachel's education before she met the demigods' existence. The following are her schools from 9th grade on up.
Relationships
Family
Her father is a land developer and her mother is a social worker, although she doesn't feel very comfortable around them. It is said that her parents hate several events they constantly do, like going to the beach, but they are too stubborn to admit it.
Rachel strongly disagrees with the job her father does which consists of finding pieces of the wild and developing them. Because of that, she refuses to ask her father for money or use his influence unless she has no other choice, as seen in The Battle of the Labyrinth. Her father wants her to go to a private school for her girls, but Rachel objectively denied wanting to go there, though she later made a deal with her father in The Last Olympians, so she currently attends the private school.
Love Interest
Rachel can't date anyone because she's an oracle. However, before she officially became an oracle, she was interested in Percy Jackson.
Friends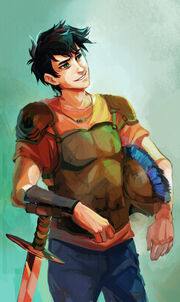 Rachel found Percy interesting from the moment they first met at the Hoover Dam. She agreed to help him in the Labyrinth, much to Annabeth's annoyance. She helps Percy out when she can. Percy and Rachel grew much closer between The Battle of the Labyrinth and The Last Olympian. He passes time with her when he needs time away from camp. Rachel genuinely cares for Percy, to the point of making a deal with her father in order to travel home and tell him his real part in the Prophecy.
Rachel showed signs of liking Percy, but is aware of Annabeth's feelings for him as well and calls Percy blind for not seeing it. When the two had to part, Rachel was happy when Percy told her he remembered her phone number and they would hang out. Rachel later asked him what it would take for the dumb guy to kiss the girl, and Percy finally realizes she liked him. They are interrupted however when Percy has to go on a mission, causing Rachel much stress and aggravation, to the point of tossing darts at a picture of Percy. However, she still came to his aid when she thought he was in trouble. While on Mount Olympus, Rachel thanks Percy for showing her the world of gods and monsters, but their destinies aren't linked, meaning they wouldn't have a romantic future together. Percy commented that he was dumped before they even started dating, but the two remain, friends after Rachel becomes the Oracle.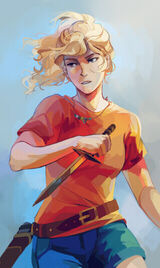 Annabeth and Rachel had a bad relationship at first. Annabeth was jealous of her while Rachel showed indifference toward Annabeth, but knows she wanted to guide Labyrinth and liked Percy, who hadn't noticed yet. Because of this, Annabeth insulted Rachel during their first meeting and was very angry.
However, Annabeth softened up when she heard about Rachel's unpleasant home life, a topic that Annabeth could understand. The two then started to talk about their interest in arts. While the two were at odds most of the time, Annabeth risked her life trying to save Rachel from a falling helicopter during
The Last Olympian
and is more willing to talk to her. After Rachel became the Oracle (meaning she could no longer date), Annabeth's jealousy completely vanished. By the end of the book, they are friends.
Others
Rachel feels personally responsible for the death of Pan due to her father's work. However, Pan didn't resent her and gave her some of his knowledge when she encountered him in the Labyrinth. She took those lessons with her for her entire life.
Etymology
Rachel is a Hebrew name sometimes seen as "Rachael" meaning "sheep; one with purity." This could be a reference to the fact that once someone becomes the Oracle, they must remain virgins.
Elizabeth is a Hebrew and Greek name meaning "My God is an oath" or "My God is abundance." This could reference Rachel's oath to Apollo to become the Oracle of Delphi.
Trivia
Her name, Rachel Elizabeth Dare, can be abbreviated to spell "RED" which is the color of her hair.
Unlike other mortals, Rachel could resist Morpheus's spell during the Battle of Manhattan, even while in the Area of Effect. This was likely done to foreshadow her becoming the Oracle.
It was said that the Clarion Ladies Academy was in New Hampshire in The Last Olympian, but in The Lost Hero, Annabeth had said it was in Connecticut.
Rachel's only two rules about music are that no two songs on her iPod can sound the same, and they all had to be strange.
Her hair color is her only defining feature in her first appearance in the series.
Rachel and the augur of Camp Jupiter, Octavian, met in The House of Hades.

She said that Octavian was Apollo's son and not his descendant. Strangely, Octavian didn't correct her.
She mentioned hitting Kronos in the eye with a hairbrush.

She has a few similarities with Alex Fierro.
Rachel, Reyna Ramírez-Arellano, William Andrew Sollace and Mallory Keen are the only major characters in any series whose middle names are known
Speaking of Mallory, the two look like siblings.
In her official ReadRiordan portrait, her eyes are mistakenly colored blue rather then green.
See also
References
Community content is available under
CC-BY-SA
unless otherwise noted.