Reina Real is the mother of Gabi Real and the writer of a bilingual advice column that circulates in eight different countries.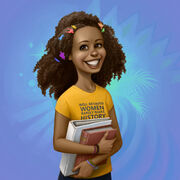 When Dulce Sotolongo brings Sal Vidon to them, she greets him happily and gives him a plate of food. After Gabi returns and the rest of her family introduces themselves to Sal, they grow quiet when she mentions her newborn son.
A few days later she meets Gustavo and Lucy Vidon, greeting them kindly and giving them food. She lets Sal and Gabi go to Culeco after hours to do a science project. Later that night after Sal and Gabi bring Yasmany Robles to the hospital she gives him food before talking to police officers with Cari-dad.
The next morning she and the dads help Sal and Gabi with their Everyman play. She does not remember if she has a sewing machine. On Sunday she watches the play and enjoys it.
Later that night Iggy's immune system fails and she cradles him waiting for the end. She knows that he will be better in the afterlife and kisses him when Gabi asks to say goodbye to Iggy alone.
Community content is available under
CC-BY-SA
unless otherwise noted.