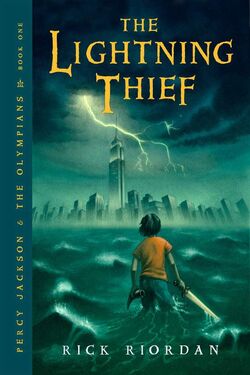 The Lightning Thief, written by Rick Riordan, is the first book in the Percy Jackson and the Olympians series. The book was adapted into a motion picture and a graphic novel in 2010.
This book tells of the main character, Percy Jackson, as he discovers a world much bigger than he has ever imagined, but is immediately handed a quest to redeem himself from a crime he never committed.
Percy Jackson is a twelve year old boy diagnosed with ADHD and dyslexia, and has been expelled from every school he has ever attended. While he is in sixth grade on a field trip, a classmate of his, Nancy Bobofit, bullies his best friend Grover Underwood. Percy is outraged, and suddenly, water from a nearby fountain drenches Nancy in a very unnatural way. Their pre-algebra teacher, Mrs. Dodds, takes Percy for a private talk, presumably to scold him. However, she suddenly turns into a Fury, a mythical creature known from Greek mythology, and tries to kill him. The Latin teacher, Mr. Brunner, charges in, and throws Percy a pen that suddenly changes into a sword when he uncaps it. Percy kills the Fury in self-defense.
For the rest of the year, everyone in the campus thinks that Mrs. Dodds had never existed, and their pre-algebra teacher is Ms. Kerr, a teacher he has never once seen before. Percy is almost led to believe this too, until he eavesdrops on Grover and Mr. Brunner saying otherwise. On his way home for the summer, he sees three very old women knitting, who turn out to be the Fates, cut a line of string, and Grover tells him this is worse than it really seems. He explains to Percy that the Fates are the ones who decide the lifespan of a being. The string in their hand is the lifeline of a person and when cut, it signifies the person's death. Percy is very frightened by this and assumes that the string of yarn that had just been cut off was his. When they make it into Manhattan, Percy ditches Grover who has to go to the restroom.
Percy comes home to his mother, Sally Jackson. She tells him that, as a treat, they would get to go on a vacation to Montauk, and that they are to leave immediately. Though they run into some complications, namely Percy's stepfather, Gabe Ugliano, they are able to leave for their destination.
(more...)
TheViralSorceress
(also known as
Viral
) joined Riordan Wiki on February 15, 2016, and is a Discussions Moderator. Congrats to Viral from everyone at Riordan Wiki!

Latest Blogs
Hi all! Hope you're all well - a couple of quick updates from me this July. Diving in!
Admin Plus is…
See more >
Warning:
We
do not
accept works of fanfiction or fanart in this wiki, and all images are from official sites. Fanfiction and fanart may go to the corresponding posts in the
discussion board
.
The Tower of Nero was released on October 6, 2020.
Disney+ has officially ordered a Percy Jackson live-action TV series.
For more Percy Jackson-related news follow us on

"
I'm incognito. Call me Fred.
"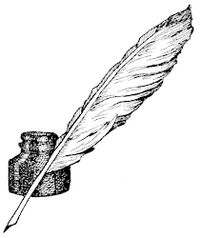 Literature Authors
Go to these sites for info or for help with your own wiki!
Agatha Christie/Mary Westmacott • Dr. Seuss • Eric Flint • Harry Turtledove • Lemony Snicket • R.J. Palacio • Rick Riordan • Stephen King • Tamora Pierce
Want your community included? See how!