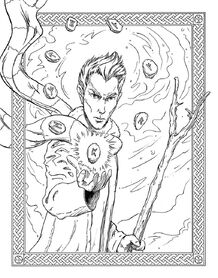 Runes Stones are magic stones used to cast spells by use of Rune Magic. They each represent a different Nordic rune and a god.
Description
First used by Odin, they are described as "the genetic code of the universe." There are many rune stones used in the Magnus Chase books.
List of Rune Stones
Dagaz - new beginnings, transformations
Thurisaz - the rune of Thor
Fehu - the rune of Frey
Raidho - the wheel, the journey, traveling
Perthro - the empty cup
Ehwaz - horse, transportation
Algiz - shielding
Tiwaz - the rune of Tyr
Othala - inheritance
Uruz - ox
Gebo - gift
Hagalaz - hail
Isa - ice
Lagaz - water, liquefy
Kenaz - the torch, rune of Loki
Known Users
Trivia
According to Sif, Rowan-Wooden Rune Stones' magic are softer, more malleable, and easier to use than stone runes.