Spider-Man: No Way Home Trailer Dropped - The Loop
Play Sound
Russia (Officially the Russian Federation) is a country that encompasses most of Eastern Europe and all of Northern Asia.
Bes takes Carter and Sadie Kane to the city of Saint Petersburg to get the book of Ra from Vladimir Menshikov at the Hermitage Museum.
Trivia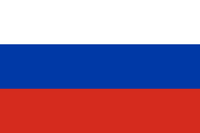 Russia is the largest country in the world and as the Union of Soviet Socialist Republics, also known as the Soviet Union or the U.S.S.R., it was the largest country to ever exist. It consisted of half of Eastern Europe, all of Northern Asia, and most of Central Asia.

The Soviet Union consisted of what is today Russia, Ukraine, Azerbaijan, Estonia, Moldova, Armenia, Latvia, Lithuania, Belarus, Georgia, Kazakhstan, Turkmenistan, Kyrgyzstan, Uzbekistan, and Tajikistan.

Russia has multiple forms of administrative divisions, or federal subjects, which all total to 83 that are divided into 44 oblasts, 22 republics, 9 krais, 4 autonomous okrugs, 3 federation cities, and 1 autonomous oblast.