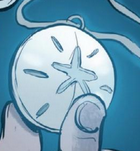 Sand dollars are a common type of shell, often found on beaches, where they are washed ashore by the ocean waves.
Towards the end of the book, Percy Jackson receives a sand dollar as a gift for his fifteenth birthday from his father, Poseidon. Not knowing when or how he was supposed use it, Percy adds it to his Camp Necklace.
Percy uses his sand dollar during the Battle of Manhattan. He gives one half of it to the East River spirit and the other half to the Hudson River spirit in exchange for keeping Kronos' armies from entering Manhattan using the East and the Hudson rivers respectively. Despite its cleaning power, Percy notices that the pollution in each of the rivers proved to be too thick and constant to truly clean all of it away.
Abilities
They can magically clean water pollution, as shown in The Last Olympian, when Percy Jackson met both the East River Spirit and the Hudson River Spirit during the Battle of Manhattan.
Gallery
Community content is available under
CC-BY-SA
unless otherwise noted.