All of Rick Riordan's book are set in the same universe, meaning that they all interact with each other and all interact with each other anyway from meeting in person to mentioning each other.
Note: This page is for interactions and mentions between characters from the various works of Rick Riordan, do not include anything from the Rick Riordan Presents imprint as they are not canon to his work.
The series makes occasional references to the Camp Half-Blood series, as it takes place in the same world.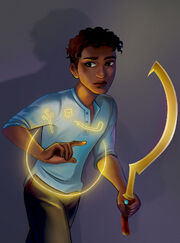 Carter catches a glimpse of a winged horse flying around Manhattan, and recalls what Amos said about Manhattan and its gods. In The Son of Sobek, Carter believes that the winged horse is a Pegasus.
Carter makes another allusion to Percy Jackson, when he's drowning and wishing he had sea god powers.
The Roman ghosts that appeared later in the story mentioned the Roman gods Jupiter, Pluto, and Vulcan. Later, when they were destroyed by Ptah, he mentioned they went on to whatever afterlife awaits them, referring to the Underworld.
At the end of the graphic novel, Carter is seen wearing a Camp Jupiter T-shirt.
Lacy and Drew from Camp Half-Blood make an appearance at a school dance that Sadie attends. In fact, Lacy even mentions that they go to a summer camp together and Drew is a tyrant there as well as at school.
Sadie's mom claims there will be other gods and rival magic that Sadie and Carter will encounter in the future, since the Egyptian gods have temporarily retreated from the mortal world.
Walt explains to Sadie that in the world of the gods (i.e., both the Camp Half-Blood series and The Kane Chronicles) that a person who dies and goes to the Underworld, they go to the one they believe in. I.e, if a believer is mummified, yet believes in the Greco-Roman Underworld, they will go to Hades'/Pluto's Underworld.
At the end of the book, Sadie says that they're picking up unidentified magical energy coming from Long Island. Camp Half-Blood is in Long Island.
The Son of Sobek is a short story featuring both Percy Jackson and Carter Kane, with the audiobook narrated by Rick Riordan himself. In it, Percy Jackson and Carter Kane combine forces to defeat a common enemy. See The Son of Sobek for a full summary.
The Staff of Serapis is another short story featuring Sadie Kane and Annabeth Chase. Annabeth and Sadie combine forces to defeat Serapis, the Greco-Egyptian god. See The Staff of Serapis for a full summary.
Percy, Annabeth, Sadie, and Carter all meet up to defeat Setne, who wishes to become a god. See The Crown of Ptolemy for a full summary.
Apollo mentions Ra riding his sun boat across the sky.
When Apollo, Meg, Nico, and Will are at Rachel's house, she points out one of her "neighbors" and describes seeing penguins on the balcony. The neighbors she speaks of are the magicians of the twenty-first nome.
Magnus Chase is the cousin of Annabeth Chase.
Magnus wants his sword to turn into a pen (and jokes about how absurd it is), making reference to Riptide.
Annabeth appears in the beginning of the book, searching for Magnus, with her father, Frederick Chase.
Annabeth tries to convince Magnus to come to a place where he will be safe. She is talking about Camp Half-Blood or Camp Jupiter.
One of the chapter titles contain Jason Grace's name, though it says immediately after that Magnus has no idea who Jason is.
At the end of the book, Magnus and Annabeth meet up, and presumably tell each other about the different gods.
Magnus, since meeting up with his cousin, is now aware of the Greek Gods in New York City.
Annabeth tells Magnus about 'a fallen god', Apollo. As well as the trouble they are having with immortal Roman emperors. 
At the end of the book, Annabeth is heard crying on the phone, this is later revealed to be because of the death of Jason Grace.
When Apollo goes to Percy's apartment, Percy mentions that Annabeth is in Boston for a family emergency.
Apollo mentions Sol, the Norse sun god, running from wolves across the sky.
Apollo mentions coming across a "hot god" in Stockholm and it references this god having a "Talking sword that won't shut up". This god is Frey, and the sword is Sumarbrander, also know as Jack.
Trivia
Also See