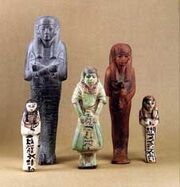 Shabti, meaning "answerer", are servants made out of clay or wax. Sometimes they are also called ushabti or shawabti. They are used mainly by magicians and gods.
Description
Shabti have multiple functions, one being that its master can use it to perform his or her duties in the afterlife. Other shabti serve as decoys, companions, soldiers, and even librarians or informants. Most shabti are made incomplete in some way; if their bodies are perfect, they will come to life and possibly kill their master out of vengeance. A shabti can report to its master by releasing the information in a magical ball of light. It will send a report upon being destroyed, but may also send a message periodically and automatically. They can also use magic, noted as Zia's shabti used magic.
Magicians that specialize in creating shabti are skilled in statuary magic. Some of the most notable statuaries include Nectanebo, Iskandar, and Thoth. Walt Stone has shown the ability to create shabti and bind sheuts to them. Sadie Kane has learned how to bind a sheut to a shabti as well as create one, but is not as good at it as Walt.
Known Shabti
Trivia
Shabti are important parts of execration spells as they are used a representation of the being execrated. If the shabti holds the sheut of a being, the being will be destroyed by the execration.
Shabti are among the most common artifacts from Ancient Egypt. They can be seen in every major museum in the world.
The largest collection of shabti are held in the Archeological Museum in Zagreb.
The shabti were considered as a magical workers, that would serve a pharaoh in his next life.
Sadie's thermos shabti may be a reference to the Daleks of the TV series Doctor Who, sporting a similar appearance and the habit of yelling "Exterminate!"
Gallery