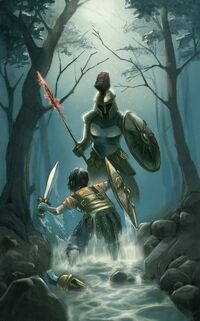 A spear is a weapon used by immortals, demigods, and mortals.
Description
They are made for medium to long ranged attacks, and are commonly used for thrusting. They can be used to attack multiple enemies. A variation of spear is a javelin which is used as a missile, a ranged weapon. A notable example is the pilum (pila, plural). Pila were also sometimes used for melee combat in Classical Antiquity, in which they were used by Roman legionaries to ward of cavalry. Spears are sometimes imbued with magical enchantments such as that of an electrical charge, like Thalia Grace's and Clarisse La Rue's. The spear's main advantage is its reach. Warriors with spears can attack enemies with swords or daggers with almost no risk at all. It's commonly used in combination with a shield.
Appearance
A spear is a long staff, with a sharp metal head/tip at the top. Greek spears would have a metal ball on the opposite end of the shaft to balance the weapon or a secondary butt-spike, in case the main blade broke. Roman spears -Pila - are mostly wood with an extended metal head.
Notable Spears
Javelins
Gallery
Also See