This article is about the actual tomb. For the book, see The Tyrant's Tomb.
Tarquin's Tomb is the tomb of Tarquin, the last king of Rome. Tarquin's Tomb is currently under a carousel in Tilden Park.
Description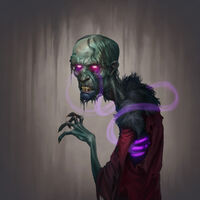 The steps leading to the tomb end in a long corridor, its long limestone walls decorated with rows of plaster death masks. The masks' expressions are frozen in panic, agony, rage and terror. The tunnel opens to a circular room like a large cistern, the floor is nothing but a narrow stone path across a deep dark pool. Hooked on a far wall were half a dozen wicker boxes like lobster traps, each with a circular opening at the bottom just the right size for a person's head. In the next chamber, there are two skeleton guards at the far side of the room, flanking an elaborately carved stone archway. The guards faced each other and wore full war helmets. The floor of the chamber is littered with old human bones.
Apollo, Meg McCaffrey, Hazel Levesque, and Lavinia Asimov go to the tomb, as instructed by Lupa, to give them a fighting chance against Triumvirate Holdings in the upcoming attack. However they are soon found and a fight breaks out, the four manage to escape and make it back to camp.