Doctor Strange in The Multiverse o Madness - The Loop
Play Sound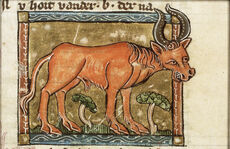 Tauri Sylvestres (also known as Forest Bulls) are cattle with red fur and blue eyes. They are the natural enemies of the Troglodytes.
Description
Forest Bulls are twice the size of regular bovines, with indestructible hide. If they are trapped in a pit, they will soon choke to death on their anger. When they disintegrate, the hide remains.
Three cattle cars filled with Tauri Sylvestres are placed in the rail yard across from one of the Dare family's properties. When Rachel Elizabeth Dare arrives and calls the authorities for animal neglect, they find nothing as they are magical. Two days later, when Apollo, Meg McCaffrey, Nico di Angelo, and Will Solace arrive they break out and chase them to a construction site. Some of them fall into a pit and die as the others look at them.
During the Battle of Nero's Tower, Nico leads a reanimated Taurus Sylvestris into Nero's throne room and commands it to attack him. It eventually collapses under the Germani's dogpiling and is reduced to a pile of bones.