This article is about the musical. For other uses, see The Lightning Thief (disambiguation).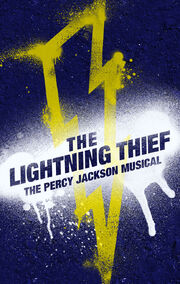 The Lightning Thief: The Percy Jackson Musical is the 2014 musical adaptation based on the best-selling Disney-Hyperion novel The Lightning Thief by Rick Riordan.
History
The musical was first introduced to NYC by Theatreworks USA in 2014 as part of its free theater series, a one-hour version with a smaller cast that went on to tour the country. 
In 2017, a brand-new production with a new score, an updated, expanded script including a second act, a larger cast, and a live band began a limited run with performances beginning on March 23, an opening set for April 4 and a last performance on May 6 on the Lucille Lortel Theatre.
In 2019 the play became a traveling performance and, from October 16th, 2019 to January 5th 2020, the play was on Broadway with previews starting September 20th, 2019.
Reception
The Lightning Thief: The Percy Jackson Musical has received positive reviews from critics. Fern Siegel, from The Huffington Post, praised the musical for its dialogue, story and cast, calling it "a reminder that Off-Broadway is an important venue for musicals",[1] while Raven Snook, for Time Out, describe it as "worthy of the gods".[2]Frank Scheck, in reviewing the production for The Hollywood Reporter, wrote that the musical "proves far more enjoyable than the misbegotten 2010 film version or its 2013 sequel" and "also provides an excellent if irreverent introduction to Greek mythology that just might persuade some kids to dig deeper."[3]
Synopsis
The Greek gods are real, and they're ruining Percy Jackson's life. As a son of Poseidon, Percy has newly discovered powers he can't control, monsters on his trail, and he is on an epic quest to find Zeus's lightning bolt and prevent a war between the gods. Normal is a myth when you're a demigod. Based on the best-selling Disney-Hyperion novel by Rick Riordan, The Lightning Thief: The Percy Jackson Musical is an action-packed theatrical adventure that will rock your world - and the underworld.[4]
Plot
Act One
Percy Jackson is on a class trip to the Metropolitan Museum of Art when Mrs. Dodds, the pre-algebra teacher, pulls him aside and, after turning into a Fury, attacks him. Just then, Mr. Brunner, the Latin teacher, throws him a sword and Percy disintegrates her. At school, he is expelled for leaving the group. Percy tries to explain how Mrs. Dobbs lured him away and attacked him, but no one, not even his best friend Grover Underwood, remembers her. He heads home for summer vacation (Prologue/The Day I Got Expelled).
At home his mother, Sally Jackson, expresses her disappointment over his sixth expulsion, but soon forgives him and offers to take him to to the beach for the weekend. His step-father, Gabe Ugliano, shows up and berates Percy for his most recent expulsion and reluctantly lets them go. At the beach, Sally tells her son how she met his father and that his differences make him stronger, not weaker (Strong). Later, Grover arrives to warn them that the Minotaur is hunting them, inadvertently revealing that he is a satyr . They make a break for safety, but the Minotaur arrives and Sally sacrifices herself to buy Percy more time. Enraged, Percy fights and kills the Minotaur. He passes out soon after and Grover carries him to Camp Half-Blood. While unconscious, Percy dreams he is under water and sees a man in a Hawaiian shirt who gives him a conch shell and a girl approaching him (The Minotaur/The Weirdest Dream).
When Percy awakes, he finds himself in a place called Camp Half-Blood. The shell the strange man in his dream gifted him remains in his pocket. The camp director, Mr. D (who is actually Dionysus, god of wine and madness), reluctantly explains to Percy that he is a demigod, the son of a human and a Greek god.  ("Another Terrible Day") Mr. Brunner (who is really Chiron, an immortal centaur), is also at the camp. He tells Percy that the gods will send a sign to claim him but Percy is still still skeptical and angry that his father has shown no sign of care for him all these years. He runs into Luke Castellan, son of Hermes, who welcomes Percy to camp and tells him that a good percentage of demigods do not know who their godly parent is ("Their Sign").
Percy settles in and meets other demigods including Silena Beauregard, daughter of Aphrodite, Katie Gardner, daughter of Demeter, and Clarisse La Rue, daughter of Ares, who immediately takes a disliking to him. As they are about to play a game of Capture the Flag he meets Annabeth Chase, daughter of Athena and the girl he saw in his dream. Annabeth quickly takes the helm of the leader during a game, instructing Percy to sit and wait in the boys' bathroom to assure he won't "mess things up". Clarisse singles him out and tries to "pulverize" him, but the toilets unexpectedly burst to life, dousing her ("Put You in Your Place"). Annabeth arrives and Percy is furious upon realizing that she used him as bait for Clarisse. She says it was necessary and asks how he took out the daughter of Ares. When he mentions the water reacting to him, Annabeth grows concerned.
Later by the campfire the campers, minus Clarisse, present their offerings to the gods and discuss the cons of having a god for a parent ("Campfire Song"). When Percy scrapes his offering into the fire, the stars start to form a Trident and everyone realizes that Percy is a son of Poseidon. At first Percy is excited to have been claimed but then he sees everyone looking at him with fear in their eyes and thunder sounds above camp.
Percy is confronted by Chiron and Mr. D who tell him that Zeus's lightning bolt has been stolen and Percy is the prime suspect. Mr. D explains that the three main Gods (Zeus, Hades and Poseidon) swore an oath not to have children more than 70 years ago; Percy represents a violation of that oath. As a result Percy and two others must go on a quest to retrieve the bolt, to prevent a war between the gods. Percy goes to the attic to get a Prophecy from the Oracle of Delphi ("The Oracle") and when he returns Chiron tells Percy that Mr. D was right and his presence puts the camp in danger so his only options are to go on the quest or leave camp. Percy is upset by this and laments about his past and the fact that no matter how hard he tries to be good, everything always goes wrong ("Good Kid"). Percy accepts the quest because Luke hints that his mom will be in the Underworld, the target location of the search, since Hades is the rumored real thief. Annabeth and Grover force themselves into the quest, and after a pair of winged shoes is given to them from Luke, the three are pushed into the woods with little care and protection ("Killer Quest").
Act Two
Percy, Grover and Annabeth go on their quest, however on the greyhound bus, the three are attacked by Alecto and the other Furies, resulting in the bus blowing up and the three wander around New Jersey until they stumble upon Aunty Em's Gnome Emporium ("Lost!"). The owner invites them in and asks to take their picture. Grover sees a statue that resembles his uncle Ferdinand and realizes it is him before the owner reveals that she is Medusa. After a brief fight Percy decapitates her and sends her head to the gods which upsets Annabeth.
While Grover heads out to scout the surrounding area, Percy asks Annabeth why she is so upset with him. She says that she spent 5 years training and studying to prove herself to her mother to give her a quest but was never given one meanwhile everyone acknowledged Percy for his two feats within a week and he automatically gets a quest.She confesses that for her whole life she has been ignored by everyone around her, and is desperate for a chance to prove herself to her mother, and make the history books ("My Grand Plan"). Just then Grover returns with three Amtrak tickets and they head west facing many obstacles such as the Chimera in the Gateway Arch, hurricane level winds, hitchhiking with a farmer on his tracker and with Ares on his motorcycle, and narrowly avoiding the Lotus Hotel and Casino in Las Vegas before catching a bus to Los Angeles ("Drive").
While on the bus, Percy has a dream of a man speaking with someone whom the man refers to as "my lord". The powerful voice mentions sacrifices and brings up a name, Thalia ("The Weirdest Dream (Reprise)"). Percy wakes with a jolt and asks Grover if he has ever heard of someone named Thalia. Grover confides that a few years back he was sent to escort Luke, Annabeth and Thalia Grace, Zeus's daughter, to camp. However, the team was attacked, and Grover failed to save Thalia, who ended up sacrificing herself, and being turned into the tree that protects the boarders of Camp Half-Blood. He holds himself responsible, and thinks Percy will be ashamed of him ("The Tree on the Hill"). Percy assures Grover that no matter who he is or what he does, Percy will always want him as a friend.
The trio arrive in the Underworld, where they are given a tour of the horror by Charon and several long-dead musicians ("DOA"). Percy realizes that the lightning bolt is hidden in his backpack, and the three work out the possibilities of how it could have gotten there. An incident where Percy is nearly dragged into Tartarus by the shoes Luke gave him occurs and the group is discovered. After a brief conversation with an innocent Hades, Percy withdraws the shell from his pocket and blows it, realizing it was from Poseidon, and it opens a portal out of the Underworld. Vowing to return to save his mom, Percy, Annabeth and Grover escape. Percy hypothesizes that Ares is the one who planted the bolt in his bag and comes to terms with both himself and Poseidon, declaring himself a son of Poseidon, and uses his gift with water and the help of Annabeth and Grover to best Ares ("Son of Poseidon"). Poseidon then appears and Percy scolds him for being an absentee father and for allowing his mother to put up with Gabe when suddenly Sally appears and she and Percy have a tearful reunion. Poseidon joins them and tells Percy he will return the lightning bolt to Zeus, he also explains that Percy can return to camp for as long as he wants to. 
The trio return to camp heroes, but Percy couldn't be more troubled. Annabeth asks whether he's going to stay at camp, telling him she's thinking about going back to her family. Percy confides in Luke that he feels just as confused as before, and Luke agrees, stating he felt similar after his own quest. Luke inadvertently tells Percy that he is the true lightning thief and that he has teamed up with Kronos to get back at the gods, who he feels have done him wrong. Luke attacks Percy and tries to convince Annabeth to run away with him to join Kronos but she refuses. Luke stabs Percy and makes his escape. ("The Last Day of Summer").
Percy wakes up later and learns that Luke is gone and no one knows where he is. After much thought he decides to spend the school year with his mother (who is no longer with Gabe after petrifying him with Medusa's head) even though it will be more dangerous for him with Luke and Kronos on the loose. Grover and Annabeth also leave the camp for the year, but promise to keep in touch with Percy. Percy declares that there will be a war no matter how they try to stall it, but he and his friends will be prepared and do whatever it takes to fight it ("Bring on the Monsters").
Cast and Crew
Original One-Hour Tour Cast
ERIC MEYERS as Percy Jackson
KRISTIN STOKES as Annabeth Chase
JORDAN STANLEY as Grover .
PARKER DROWN as Luke, Ares, Mr. D, Charon, and others
GRAHAM STEVENS as Chiron, Poseidon, and others.
ZAKIYA YOUNG as Clarisse, Sally Jackson, and others
Understudies
For Chiron and Grover: JON FRIESTEDT
For Clarisse and Annabeth: MACAELA SEARS
For Percy and Luke: BEN HOLTZMAN
Original Off-Broadway Cast
CHRIS McCARRELL as Percy Jackson
KRISTIN STOKES as Annabeth Chase
GEORGE SALAZAR as Grover and Mr. D.
JAMES HAYDEN RODRIGUEZ as Luke, Ares, and others
JONATHAN RAVIV as Chiron, Poseidon, and others.
SARAH BETH PFEIFER as Clarisse, Katie Gardner, and others
CARRIE COMPERE as Sally Jackson, Silena Beauregard, and Charon
Understudies
For Chiron and Grover: SAM HARTLEY
For Clarisse and Sally: DANIELLE JAMES
For Percy and Luke: PETER LAPRADE
For Annabeth: SARAH BETH PFEIFER
Original Broadway & Second National Tour Cast
CHRIS McCARRELL as Percy Jackson
KRISTIN STOKES as Annabeth Chase
JORREL JAVIER as Grover and Mr D.
JAMES HAYDEN RODRIGUEZ as Luke, Ares, and others
RYAN KNOWLES as Chiron, Poseidon, and others
SARAH BETH PFEIFER as Clarisse, Katie Gardner, and others
JALYNN STEELE as Sally Jackson, Silena Beauregard, and Charon
Understudies
For Chiron and Grover: IZZY FIGUEROA
For Clarisse and Sally: T. SHYVONNE STEWART
For Percy and Luke: SAM LEICHT
For Annabeth: SARAH BETH PFEIFER
Production
Written by JOE TRACZ
Music and Lyrics by ROB ROKICKI
Directed by STEPHEN BRACKETT
Choreographed by PATRICK McCOLLUM
Musical Direction by WILEY DEWEESE
Fight Direction by ROD KINTER
Set Design by Lee Savage
Costume Design by Sydney Maresca
Lighting Design DAVID LANDER
Orchestrations by WILEY DEWEESE & ROB ROKICKI
Sound Design by RYAN RUMERY
Production Manager BOB DALEY
Casting by JASON BLITMAN & GREG ULIASZ
Production Stage Manager LEIGH'ANN ANDREWS
Marketing & Advertising by THE PEKOE GROUP
Orchestra
Conductor/keyboards: WILEY DEWEESE
Drums/percussion: JEREMY YADDAW
Guitar: KEVIN WUNDERLICH
Bass: DENNIS MICHAEL KEEFE
Musical Numbers
Act I
Act II
Deleted Songs
Take the Weight

........................................................................ Annabeth

Try

............................................................................................. Percy, Annabeth, Grover

Pick a Side

................................................................................ Luke, Clarisse, Silena

Camp Half-Blood

...................................................................... Company

In the Same Boat

...................................................................... Percy, Annabeth, Grover, Ares, Charon

The Wittlest Minotaur

................................................................ Minotaur, Company
The Cast Album & Digitally Released Songs
Good Kid (Outtake) - Percy Jackson and Company (Released January 21, 2017, for download from official website after signing up for emails) 

The Lightning Thief (Original Cast Recording) -

The rest of the songs were scheduled to be released on June 30th in the Cast Album, but they pushed the date to July 7th. People who preordered the album from Broadway Records received it the 30th and everyone else could purchase it from iTunes on the 7th.
The Lightning Thief (Original Cast Recording) [Deluxe Edition] - Was released on December 6, 2019, with the current broadway cast. The deluxe album features 5 bonus tracks (Camp Half-Blood, Pick a Side, Try, In the Same Boat, and The Wittlest Minotaur).
Gallery
Videos
Differences from the Novel
Percy is expelled for leaving the group during the field trip as opposed to arguing with the teacher.
Poseidon claims Percy by forming a star constellation into a trident during the Campfire Song, rather than sending a holographic trident to appear over his head after Capture the Flag.
Silena and Beckendorf are already in a relationship, whereas in the novels they didn't start dating until The Bronze Dragon, shortly before The Last Olympian.
Furthermore, Beckendorf is also in a relationship with a nymph. This does not occur in the novels. 
During Capture the Flag, Annabeth has Percy stay in the restroom, where Clarisse confronts him alone. This is essentially a combination of the Capture the Flag scene and the Bathroom scene from the novel. 
Chiron reveals that his father is Kronos during the Campfire Song, a revelation that did not happen until the second book.
Percy wears the flying shoes instead of Grover. 
Instead of finding a lost dog and returning him to his original owners in order to get money for travel, Grover talks to a squirrel, who later brings them three Amtrack tickets. 
Echidna and the Chimera only make a cameo during "Drive".
The first meeting with Ares is widely different from the book:

Instead of meeting him in a diner, Ares simply appears after the gang exits the farmer's truck.
The entire mission to Waterland to retrieve Ares' shield and Aphrodite's scarf is excluded. 
Ares takes the group to Las Vegas himself instead of showing them a Kindness International truck to ride in. 
Percy says that he likes Ares, whereas in the novel he instantly disliked him.

Annabeth is instantly wary of the Lotus Casino and warns Percy against entering, whereas in the novel she was just as entranced as Percy was and had to be snapped out of the casino's spell by Percy. 
Instead of being entranced by the casino and getting enthralled in numerous activities before Percy eventually snaps out of it, the gang immediately encounters Bianca di Angelo, who mentions that she first entered with Nico in 1939, causing them to realize the danger off the casino, and they flee.
The entire sequence with Crusty's Water Bed Palace is cut. 
Annabeth taming Cerberus is also cut. 
The gang discovers that the Master Bolt is in Percy's bag before they meet Hades. 
The gang never enters Hades' palace, instead, he finds them after they escape the trap leading to Tartarus. 
Instead of receiving pearls after the battle with the Chimera, Percy was given a Conch Shell to blow that created a portal.
The petrified Gabe is called "Bean Dip" rather than "The Poker Player".
Percy is portrayed as queer in the musical by performer Chris McCarrell.[6]
The final scene with Luke also differs significantly from the novel:

Instead of luring Percy into the forest to talk alone, Luke and Percy talk in camp.
Percy figures out Luke is the thief through him inadvertently revealing it, whereas in the novel Luke immediately summons a pit scorpion and directly tells Percy his motives. 
Luke and Percy have a sword duel, attracting the attention of the other campers, whereas in the novel Luke keeps Percy hostage with the scorpion and they continue to converse.
Luke has a confrontation with Annabeth after defeating Percy in their duel, where he tries to convince her to join him. Annabeth pretends to agree to get close to Luke and steals his sword. In the novel, Annabeth isn't aware of Luke's betrayal until after he flees. 
As Luke leaves camp, he stabs Percy to create a distraction rather than ordering the Pit Scorpion to sting him.
The Lightning Thief Social Media
The social media accounts were run by Ashlee Latimer. The identity of who was behind the accounts was a secret until January 6th, 2020. 
Anyone running the Lightning Thief social media is referred to as Mx. Thief in order to keep their identity a secret
A new Mx. Thief will be taking over the accounts for the musical's second tour. 
Ashlee was known to be very active with fans especially on Twitter. 
Trivia
Nectar and Ambrosia are mentioned as a common delicacy in Camp, whereas in the books they are used only in medical situations and, if consumed too much, will cause the consumer to burst into flame.  
They used many lines from the book like "Eat My Pants"
The musical included many scenes that the 2010 movie excluded. For example:

The inclusion of characters like Clarisse and Dionysus.
The Greyhound explosion
The fight with Ares.
The Gateway Arch.

It is heavily implied that Bianca di Angelo makes a cameo appearance in the Lotus Casino scene. The girl had dark hair, mentioned that she and her brother had just arrived at the Hotel in 1939, which is about the time Bianca and Nico di Angelo were placed into the hotel.
Although Luke is seen training against a dummy in the final scene, no mention is made if the sword he is using is Backbiter. 
The Camp Half-Blood banner used featured the original pegasi artwork used in the official character artwork in the Ultimate Guide. But the Camp Half-Blood T-shirts they sold had a different pegasi artwork on them.
The Lightning Thief: The Percy Jackson Musical is featured in an episode of the podcast "Jim and Tomic's Musical Theatre Happy Hour" on October 31, 2019.
References