This article is about the musical. For other uses, see The Lightning Thief (disambiguation).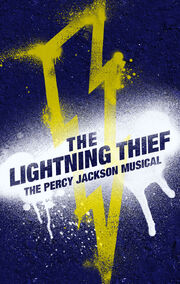 The Lightning Thief: The Percy Jackson Musical is the 2017 musical adaptation based on the best-selling Disney-Hyperion novel The Lightning Thief by Rick Riordan.
The musical was first introduced to NYC by Theatreworks USA in 2014 as part of its free theater series, a one-hour version with a smaller cast that went on to tour the country. In 2017, a brand-new production with a new score, an updated, expanded script including a second act, a larger cast, and a live band began a limited run with performances beginning on March 23, an opening set for April 4 and a last performance on May 6 on the Lucille Lortel Theatre.
The Lightning Thief: The Percy Jackson Musical has received positive reviews from critics. Fern Siegel, from The Huffington Post, praised the musical for its dialogue, story and cast, calling it "a reminder that Off-Broadway is an important venue for musicals",[1] while Raven Snook, for Time Out, describe it as "worthy of the gods".[2]Frank Scheck, in reviewing the production for The Hollywood Reporter, wrote that the musical "proves far more enjoyable than the misbegotten 2010 film version or its 2013 sequel" and "also provides an excellent if irreverent introduction to Greek mythology that just might persuade some kids to dig deeper."[3]
Synopsis
The Greek gods are real, and they're ruining Percy Jackson's life. As a son of Poseidon, Percy has newly discovered powers he can't control, monsters on his trail, and he is on an epic quest to find Zeus's lightning bolt and prevent a war between the gods. Normal is a myth when you're a demigod. Based on the best-selling Disney-Hyperion novel by Rick Riordan, The Lightning Thief: The Percy Jackson Musical is an action-packed theatrical adventure that will rock your world - and the underworld.[4]
Plot
Act One
Percy Jackson is on a class trip to the Metropolitan Museum of Art when Mrs. Dodds, the pre-algebra teacher, pulls him aside and, after turning into a Fury, attacks him. Just then, Mr. Brunner, the Latin teacher, throws him a sword and Percy disintegrates her. At school, he is expelled for leaving the group. Percy tries to explain how Mrs. Dobbs lured him away and attacked him, but no one, not even his best friend Grover Underwood, remembers her. He heads home for summer vacation (Prologue/ The Day I Got Expelled).
At home his mother, Sally Jackson, expresses her disappointment over his sixth expulsion, but soon forgives him and offers to take him to to the beach for the weekend. His step-father, Gabe Ugliano, shows up and berates Percy for his most recent expulsion and reluctantly lets them go. At the beach, Sally tells her son how she met his father and that his differences make him stronger, not weaker (Strong). Later, Grover arrives to warn them that the Minotaur is hunting them, inadvertently revealing that he is a satyr . They make a break for safety, but the Minotaur arrives and Sally sacrifices herself to buy Percy more time. Enraged, Percy fights and kills Minotaur. He passes out soon after and Grover carries him to Camp Half-Blood. While unconscious, Percy dreams he is under water and sees a man in a Hawaiian shirt who gives him a conch shell and a girl approaching him (The Minotaur/The Weirdest Dream).
When Percy awakens he finds a man yelling at those around him and listening to their problems he explains that he is Dionysus, the god of wine and drama, who is in charge of Camp Half-Blood as punishment for dating Zues' favorite wood nymph until Mr. Brunner arrives and reveals himself to be the Centaur Chiron (Another Terrible Day). Chiron explains to Percy that he is a Demigod, a child of a human and a god, and that his mother is dead. Percy, still being skeptical of being a demigod and angry that his father ignored his for twelve years and let his mom die and walks out. He runs into Luke Castellan, son of Hermes, who welcomes Percy to camp and tells him that a good percentage of demigods do not know who their godly parent is (Their Sign).
Percy settles in and meets other demigods including Silena Beauregard, daughter of Aphrodite, Katie Gardner, daughter of Demeter, and Clarisse La Rue, daughter of Ares, who quickly takes a disliking to him. As they are about to play Capture the Flag he meets Annabeth Chase, daughter of Athena and the girl he saw in his dream. As the game starts she tells Percy to hide in the bathroom, but Clarisse finds him attacks him however she is repelled by toilet water that reacted to Percy's distress (Put You in Your Place). Annabeth soon arrives and Percy is furious she used him as bait for Clairisse. She says it was necessary and asks how he took out the daughter of Ares. When he mentions the water reacting to him, Annabeth grows concerned.
Later by the campfire the campers present their offerings to the gods and discuss the cons of having a god for a parent (Campfire Song). When Percy scrapes his offering into the fire, the stars start to form a Trident and everyone realizes that Percy is a son of Poseidon. At first Percy is exited by he sees everyone looking at him with fear in their eyes and thunder sounds above camp.
Mr. D and Chiron ask Percy questions and tell him about the theft of Zeus' Master Bolt and that, due to his poseid claiming him, he is the prime suspect. Mr. D tells Percy to leave as he is putting them in danger j by being at camp. Chiron tells Percy he can go on a quest to clear his name and he goes to the attic to get a Prophecy (The Oracle) when he returns Chiron tells him that Mr. D was right as his presents puts the camp in danger and his only options are to go on the quest or leave camp. This angers Percy and he contemplates about his past and what to do (Good Kid). After talking with Luke he decides to go on the quest and is joined by Grover and Annabeth. Luke gives Percy a pair of winged sneakers and they set of to the Underworld (Killer Quest).
Act Two
Percy, Grover and Annabeth go on their quest, however on the greyhound bus, the three are attacked by Alecto and the other Furies, resulting in the bus blowing up and the three wander around New Jersey until they stumble upon Aunty Em's Gnome Emporium (Lost!). The owner invites them in and requests she take their picture. Grover sees a statue that resembles his uncle Ferdinand and realizes it is him before the own reveals that she is Medusa. After a brief fight Percy decaptates her and sends her head to the gods. This upsets Annabeth and Grover goes to scout out the surrounding area.
When he's away the son of Poseidon asks the daughter of Athena why she is so upset with him. She says that she spent years training and studying to prove herself to her mother to give her a quest, while everyone acknowledged Percy for his two feats within a week and he automatically gets a quest. She explain her frustration and plans to achieve her goals with him (My Grand Plan). Just then Grover returns with three Amtrak tickets and they head west facing many obstacles such as the Chimera in the Gateway Arch, hurricane level winds, hitchhiking with a farmer on his tracker and with Ares on his motorcycle, and narrowly avoiding the Lotus Hotel and Casino in Las Vegas before catching a bus to Los Angeles (Drive).
During the ride, Percy falls asleep and sees a figure speaking to a pit that tells him to he will be avenging Thalia before the voice coming out of it notices his presence (The Weirdest Dream Reprise). He wakes up and tells Grover about the dream and the name he heard. Grover is surprise by this and reveals that a few years ago he was tasked with bring three half-bloods to camp, Annabeth, Luke, and Thalia a daughter of Zeus. He says they got lost and when they found the way they were cornered, Thalia sacrificed herself to saw them and was turne into a Pine Tree to safeguard the Borders (The Tree on the Hill).
The three arrive at the entrance to the underworld, DOA Recording Studios, and talk Charon into letting them into the underworld where they encounter famous deceased singers such as Jimmy Brown, Janis Joplin, Kirk Cobain, and Beethoven (DOA). As they lo for Hades, the winged sneakers Percy is wearing start to pull him to a pit, but his friends get the sneakers off of him and they go into the pit. Annabeth recenizes it as an entrance to Tartarus, the prison of the Titans, including Kronos. She realizes the king of the titans was after something Percy had, the Master Bolt. Percy shouts his innocence and points blame at Annabeth for "knowing" it was in his backpack.
Soon Hades them and states that he did not steal the master bolt, but requests it since Percy has it. He offers his mother in trade and the gods will go to war. Hades asks Percy what his father ever did for him and he remembers the shell in his dream and, realizing Poseidon gave it to him. He blows it and a portal to the land of the living opens. He realizes Ares slipp the master bolt into his backpack when he gave them a ride and they war god appears and he and Percy fight until the son of Poseidon dowses with a massive wave (Son of Poseidon). Poseidon then appears and, after Percy scolds him for letting him and his mother put up with Gabe, he explains that his mother chose to put up with him to mask Percy's sent from monster using Gabe's odor. Just then Sally appearssoon after and mother and son hug. Poseidon joins in before taking the bolt to Zeus, but not before saying Percy can stay at camp year round. Sally says she can handle Gabe before Percy gives her Medusa's head as insurance just in case.
Back at camp, Percy decides to stay or go home for the school year. He gets a let from his mother with a picture of her new statue "bean dip". Annabeth asks what he's going to do and says she's thinking about going back to her family. Just them he sees and talks with Luke about the quest, as the conversation gets heated Percy realizes that the son of Hermes stole the bolt to get the gods to destroy each other. Soon everyone knows Luke is a traitor and he tries and fails to get Annabeth to come with him before stabbing Percy to cover his escape (The Last Day of Summer).
When he wakes up healed, the others wond what to do, Grover says he has every squirrel in the east coast looking for him, but Percy knows that won't help much. The campers know their is a war coming and prepare for it while Percy decides to go h but return for the summer (Bring on the Monsters).
Cast & Crew
Original Broadway Cast
CHRIS McCARRELL as Percy Jackson
KRISTIN STOKES as Annabeth Chase
GEORGE SALAZAR as Grover and Mr. D.
JAMES HAYDEN RODRIGUEZ as Luke, Ares, and others
JONATHAN RAVIV as Chiron, Poseidon, and others.
SARAH BETH PFEIFER as Clarisse, Katie Gardner, and others
CARRIE COMPERE as Sally Jackson, Silena Beauregard, and Charon
Understudies
For Chiron and Grover: SAM HARTLEY
For Clarisse and Sally: DANIELLE JAMES
For Percy and Luke: PETER LAPRADE
For Annabeth: SARAH BETH PFEIFER
Production
Written by JOE TRACZ
Music and Lyrics by ROB ROKICKI
Directed by STEPHEN BRACKETT
Choreographed by PATRICK McCOLLUM
Musical Direction by WILEY DEWEESE
Fight Direction by ROD KINTER
Set Design by Lee Savage
Costume Design by Sydney Maresca
Lighting Design DAVID LANDER
Orchestrations by WILEY DEWEESE & ROB ROKICKI
Sound Design by RYAN RUMERY
Production Manager BOB DALEY
Casting by JASON BLITMAN & GREG ULIASZ
Production Stage Manager LEIGH'ANN ANDREWS
Marketing & Advertising by THE PEKOE GROUP
Orchestra
Conductor/keyboards: WILEY DEWEESE
Drums/percussion: JEREMY YADDAW
Guitar: KEVIN WUNDERLICH
Bass: DENNIS MICHAEL KEEFE
Musical Numbers
Act I
Prologue/The Day I Got Expelled .............................. Percy, Company
Strong..........................................................................Sally, Percy
The Minotaur/The Weirdest Dream............................. Percy, Ensemble
Another Terrible Day ....................................................Mr. D
Their Sign ................................................................... Chiron, Percy, Luke, Grover
Put You In Your Place ................................................. Clarisse, Annabeth, Ensemble
The Campfire Song..................................................... Campers, Chiron
The Oracle................................................................... The Oracle, Ensemble
Good Kid .....................................................................Percy, Ensemble
Killer Quest! ................................................................. Percy, Annabeth, Grover, Company
Act II
Prologue to Act II/I Ruin A Perfectly Good Bus......................... Company
Lost!............................................................................................Percy, Annabeth, Grover
My Grand Plan............................................................................Annabeth
Drive........................................................................................... Percy, Annabeth, Grover, Ares
The Weirdest Dream (Reprise) .................................................. Percy, Ensemble
The Tree on the Hill ................................................................... Grover, Ensemble
D.O.A......................................................................................... Charon, Ensemble
Son of Poseidon ....................................................................... Percy, Annabeth, Grover, Ares, Ensemble
The Last Day of Summer........................................................... Percy, Luke, Ensemble
Bring on the Monsters.............................................................. Company
The Cast Album & Digitally Released Songs
Good Kid (Outtake) - Percy Jackson and Company (Released January 21, 2017, for download from official website after signing up for emails) 

The Lightning Thief (Original Cast Recording) -

The rest of the songs were scheduled to be released on June 30th in the Cast Album, but they pushed the date to July 7th. People who preordered the album from Broadway Records recieved it the 30th and everyone else could purchase it from iTunes on the 7th.
Gallery
Videos
[5]
Trivia
The Cast was only 7 people but there were many more characters
The Cast will come outside the theater after the show and sign posters and books.
They used many lines from the book like "Eat My Pants"
The Musical was true to the book and included many scenes the movies excluded. For example:

The Bathroom Scene with Clarisse and Percy
The Greyhound explosion
The fight with Ares
The Gateway Arch

The Musical changed a few things slightly to adapt to the stage, but don't alter the storyline. For Example:

Peseidon claims Percy by forming a constitutional into a trident, rather then sending a holographic trident to appear over his head.
Percy wore the flying shoes, not Grover.
They didn't find a lost dog, Grover talked to a squirrel. 
They rode with Ares instead of a Kindness International truck.
There were no pearls, but Percy was given a Conch Shell to blow.
The petrified Gabe is called "Bean Dip" rather then "The Poker Player".

There was a girl in the Lotus Casino that could have been Bianca because she had dark hair and said the date was 1939 which is about the time Bianca di Angelo was in the Hotel.
The Camp Half-Blood banner used featured the original pegasi artwork used in the official character artwork in the Ultimate Guide. But the Camp Half-Blood T-shirts they sold had a different pegasi artwork on them.
The musicals twitter page is notorious for being sassy and constantly active with fans.
References