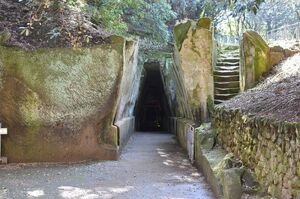 The Oracle of Cumae was home to the Cumaean Sibyl, author of the Sibylline Books.
History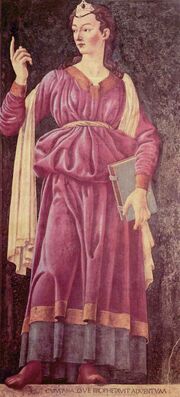 Although she was a mortal, the Cumaean Sibyl lived about a thousand years, at the age of seven hundred she met Aeneas. She was able to live for so long due to Apollo offering her a wish on a beach near Southern Italy. The god loved everything about her, even though she already gave up everything to become his oracle, he wanted to marry the sibyl. She refused saying that guiding people to a better future was all she wanted. Apollo told her that if she were immortal she could do that forever, he'd never get tired of her. So the Sibyl picked two heaping handfuls of sand and asked if he'd grant her as many years of life as the grains of the sand. Apollo complied, but the sibyl said that she was just being hypothetical and refused to keep her end of the bargain, having heard about Apollo's other lovers. Apollo got mad that she was refusing payment, the sibyl thought that he though of her as a transaction. She decided to love him after the grains of sand run out, that was when Apollo began to hate her. So he mentioned that she didn't ask for eternal youth, so she would grow old and wither but not die.[1]
According to the myth, the Cumaean Sibyl came to Lucius Tarquinius Superbus, the last Roman king, from another country and offered nine books. Seeing how immense the price was, Tarquin simply sent her away and continued doing his work. The Sybil burned three of the books and offered them for the same price, which was promptly rejected. She burned three more and offered the same thing, King Tarquin reluctantly agreed to buy them in fear of what would happen in he didn't. All of the prophecies affecting the Roman Empire were said to have been in these books, but they have been lost for centuries after the Temple of Jupiter burned.
Around the end of the Roman Empire, rumors spread that the body of Cumaean Sibyl had crumbled away completely. But she could still not die, her attendants put the faintest whisper of her voice in a glass jar.
The jar she was in is held by Harpocrates. During their imprisonment the two grew close over their shared hatred of Apollo. She forgives Apollo solely to leave the world with no grudges.
Appearance
At the time she first became an oracle, the beautiful Sibyl of Cumae (described by Apollo) had 'auburn hair that caught the sunlight and a mischievous gleam in her eyes'. This is not the case due to Apollo granting her near-immortality.
References
↑ The Tyrant's Tomb, Ch. 13
Community content is available under
CC-BY-SA
unless otherwise noted.