Toxikinesis is the ability to control and manipulate poison.
When Akhlys takes Percy and Annabeth to the Mansion of Night to expose them to Death Mist she turns on them and throws poison at them. This angers Percy who then turns the tables and attacks her with poison. This action deeply disturbs Annabeth.
When Polybotes attacks Percy and Jason in Atlantis, he summons a basilisk to poison Percy. Percy tries to dispel the poison, but his attempts are halfhearted because of his shame over what he did to Akhlys. After Jason converts Kymopoleia to their side, she beheads Polybotes and dissipates the poison around Percy.
Abilities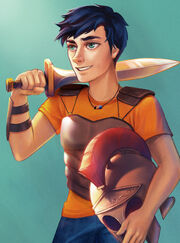 Redirecting poison.
Dissipating poison.
Toxigenesis: summoning poison.
Known Users
Community content is available under
CC-BY-SA
unless otherwise noted.