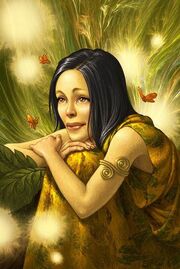 A Travel Rose is a magical flower that brings someone to the world of the living when they are in the Underworld. This happens when the wielder crushes the rose.
The Sword of Hades
Percy Jackson, Thalia Grace, and Nico di Angelo are each given a Travel Rose when they return Hades' Sword back to Persephone. However, Nico didn't use his, as he decides to stay in the Underworld for a while.
Trivia
Community content is available under
CC-BY-SA
unless otherwise noted.