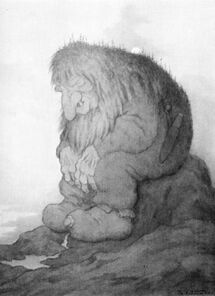 Trolls are monsters in Norse Folklore.
History
In Norse Folklore, trolls dwell in isolated rocks, mountains, or caves, live together in small family units, and are rarely helpful to human beings. Similar to dwarves, trolls also turn to stone if exposed to sunlight.[1] The best weapon against a troll is to learn its true name. Like a password, speaking the name out loud unlocks the way past the troll's natural defenses.
Bragi encountered a female troll in a forest one evening. After asking who he was, she described herself the moon of Hrungnir, his wealth sucker, "storm-sun" destroyer, seeress follower, guardian of the grave, and sun swallower. In turn, Bragi described himself as a skald, a poet.[2]
A half-troll named X was said to have died trying to stop a dog fighting ring and ended up on the nineteenth floor of Hotel Valhalla. However, it later turned out that he was actually Odin in disguise.
Junior built a reusable self-guiding troll-seeking missile, that could destroy any troll at a distance of half a mile. But thanks to Samirah al-Abbas attacking him as a horsefly, it was nothing but a useless metal cylinder.
Speaking of Troll...
A troll was summoned by Wildflower and Sunspot when Hearthstone broke through the gate of the mansion they were guarding. Hearth was surprised that such hideous creatures were allowed in Alfheim, much less employed.
Known Trolls
References