Un Natale Mezzosangue also known as "A Half-Blood Christmas" is an short-story written by Rick Riordan produced in the language of Italian for La Repubblica available on rickriordan.com. In December 18, 2020, La Repubblica is available as a printed edition.
Description
Nico assisted Percy Jackson find the perfect Christmas gift for Annabeth, and they encounter the Etruscan god Charu.
Plot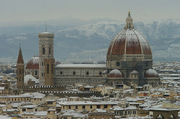 Percy Jackson is searching for the perfect Christmas gift for Annabeth. The son of Poseidon enlists the help of Nico di Angelo Nico, to Percy's surprise, brings him to Florence through shadow travel. Nico then brings Percy to a shop where they meet the Etruscan god Charu. It is revealed that Charu is the last remaining Etruscan god. Charu gives Percy a gift for Annabeth, that he thinks she will like, and they discuss the universality of Christmas as payment . The story takes place in December 2020, and Riordan emphasizes the need to wear masks.
Characters
Demigods
Gods