Welcome,
<insert name here>
!

Heya, I'm Lourin/Xena and I'm a discussions moderator and rollback for this wiki. If you have any questions/concerns, leave a note on my talk page and I'll be happy to help. If you want to ask something in private for whatever reason, you can also DM me on discord (though you'd have to ask for my user and tag). More serious issues should be brought up to the admins. Currently in love with Violet Evergarden again, hence the gif. :D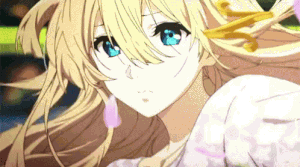 ACTIVE DISCUSSION MODERATORS: Akizukie, DOP2006, and Vanxlla.
ACTIVE ADMINS: SayuriDarling, RoyallyBella, and Andrewh.
Community content is available under
CC-BY-SA
unless otherwise noted.