THIS BLOG IS CURRENTLY CLOSED.
Please move over to this blog to discuss The House of Hades. 
DO NOT POST SPOILERS. YOU WILL BE BLOCKED UNTIL OCTOBER 8TH IF YOU DO.
Dear users of Riordan Wiki. Welcome to the official The House of Hades expectations blog!
The not-so-dramatic welcome aside, this blog is to let you guys share your expectations and theories for the next book in the Heroes of Olympus series, The House of Hades.
Please, no crazy theories that make no sense whatsoever (talking specifically to the anons here). Also, no spamming, being off-topic, etc. You already know how it goes.
And now, let the speculation...begin!
Update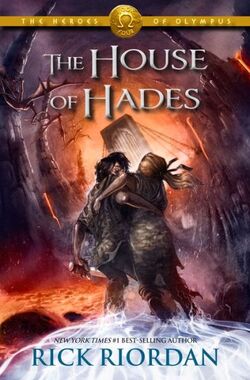 3/11/13
Amazon has apparently released a short synopsis for The House of Hades, seen here:

"At the conclusion of The Mark of Athena, Annabeth and Percy tumble into a pit leading straight to the Underworld. The other five demigods have to put aside their grief and follow Percy's instructions to find the mortal side of the Doors of Death. If they can fight their way through the Gaea's forces, and Percy and Annabeth can survive the House of Hades, then the Seven will be able to seal the Doors both sides and prevent the giants from raising Gaea. But, Leo wonders, if the Doors are sealed, how will Percy and Annabeth be able to escape?
They have no choice. If the demigods don't succeed, Gaea's armies will never die. They have no time. In about a month, the Romans will march on Camp Half-Blood. The stakes are higher than ever in this adventure that dives into the depths of Tartarus."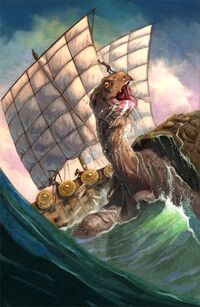 5/29/13
From Rick Riordan's Twitter: RT: @NickyMouuse please tell me Nico gets a POV in The House of Hades./Already PLENTY of POVs, so no. But he has a big part.
5/31/13
Ya, so the cover was released...that was a thing.
6/7/13
John Rocco unveils what the inside of a limited edition HoH will look like. Source: Official John Rocco blog
7/17/13
From RR's twitter: .@Ardhin_dian I am shipping octavian and rachel omg./ So you hate Rachel that much? : ) They *will* meet in HoH. Past that, I won't say...
8/9/13
Rick Riordan officially announces his tour dates for The House of Hades. Tour starts October 8th and ends on October 15th. Link to his blog and the dates can be seen here. The cities he is scheduled to visit are Burlington, MA; New York City, NY; Fairless Hills, PA; Washington DC; St. Louis, MO; Nashville, TN; Houston, TX; and St. Paul, MN. If he is visiting a city near you, good for you! If not, well there is always next year.
Also, The House of Hades chapter preview is available for all! Please click here to read it. 
9/17/13
There is an interview with RR talking about how Hades plays a big role in HoH (duh) and about his personality and why it's hard to be his children. 
9/18/13
RR clearly wants us to all sob and reads an excerpt from the middle of the freaking book where it's Percabeth in Tartarus, basically screwed over. Listen and fangirl (fanboy) here . 
10/1/13
Rick Riordan gave an interview where he talks about The House of Hades and his upcoming Norse series.
10/3/13
Rick Riordan did an interview with Publishers Weekly. In it, he revealed some very interesting facts, including some of the characters appearing; such as Calypso, Grover Underwood, and Bob. He also revealed that this book will be narrated by all seven demigods. Read the interview here.
Mystery Locations
So for the past few days, Rick Riordan has been posting images of places that will appear in the book. Here they are:
Character Art
Polls
What do you think of "The House of Hades" cover?
Community content is available under
CC-BY-SA
unless otherwise noted.