"
Right now you couldn't summon a wishbone without melting into a puddle of darkness, di Angelo. I told you, no more Underworld-y stuff, doctor's orders. You owe me at least three days of rest in the infirmary. Starting now.
"

–Will Solace, to Nico di Angelo in The Blood of Olympus.
Will Solace is a fifteen year old[1] Greek demigod, the son of Apollo and Naomi Solace. He is the current head counselor of Apollo's Cabin and a prominent healer at Camp Half-Blood. Will is currently the boyfriend of Nico di Angelo.
History
Will was born in Austin, Texas to Naomi Solace, an alt-country singer, and Apollo, the Greek god of archery, music, light, prophecy, and medicine.
When he was old enough, he was brought to Camp Half-Blood by an unknown satyr.
Will Solace becomes the head counselor of the Apollo cabin after his half-brother, Michael Yew, goes missing in action during the Second Titan War (assumed to be dead). He also heals Annabeth Chase after she was wounded while defending Percy Jackson.
Will fought bravely for the Olympians and survived the Battle of Manhattan.
Will lends Annabeth and Butch Walker the Apollo cabin's flying chariot and is very annoyed and upset when they bring it back in ruins. When Leo Valdez is claimed by Hephaestus, Will is assigned to show Leo around the camp by Chiron. Will takes Leo to see his cabin, telling him about Percy Jackson, Charles Beckendorf, and the Second Titan War; after which, he leaves him with the rest of his new half-siblings at the Hephaestus cabin forges.
Will is also present, along with the other campers, when Piper McLean is claimed by Aphrodite, and when Jason Grace is given his quest, with Piper and Leo joining him. Will was also probably one of the archers who were about to attack Festus when he appeared at camp.
At the head counselor meeting, Will is present with the other head counselors after the end of Jason's quest. It was said that Will was absently wrapping and unwrapping an Ace bandage around his wrist. 
Will Solace appears to help Nico sabotage the Onagers along with Lou Ellen and Cecil, having just finished delivering Coach Hedge's son, and is eager to help in the battle.[2] While attempting to sneak up on the Roman camp, Nico and Will have an argument, exposing their position and attracting the attention of Octavian and his most faithful soldiers. However, Nico and Will distract the Octavian's soldiers and monsters for long enough so that the Greeks could successfully finish disabling the onagers.
Octavian then mocks them, saying that it is too late to save Camp Half-Blood, and orders his soldiers to fire the onagers. However, Cecil, using the distraction, had already altered the firing trajectory of the weapons, and the projectiles end up colliding with themselves angering Octavian greatly.
The Fifth Cohort arrives and tells Octavian that they are now receiving orders from Reyna, not him. They are soon joined by the Fourth Cohort and they face off against the other cohorts. A split second later, Clarisse arrives with the Greeks and declares war on the Romans for firing on Camp Half-Blood. Before the two armies fight, however, Reyna arrives with the statue of Athena Parthenos and tells the Greeks and Romans to join forces and defeat Gaea's monsters.
Seeing the Athena Parthenos, Octavian's monsters turn against the Greeks and Romans attacking them. Gaea also awakens, summoning more monsters but is snatched into the air by the combined efforts of Festus, Leo, Jason, and Piper. In the middle of battle, Nico and Will find Octavian, who was attempting to fire an onager blast at Gaea and Festus, but accidentally ties himself up in the process, blowing up Gaea and killing himself.
Some days after the war has ended, Will is seen outside Nico's cabin motioning to him sternly. He starts to ask Nico why he hadn't visited him when he was helping the injured to even help or say "hello," leaving Nico confused and flustered. He then orders Nico to stay for three days to help him, making "skeletal butterflies" flap in Nico's stomach. After Nico confesses to a very surprised Percy and Annabeth of his old crush on the son of Poseidon, he runs back to where Will is.
Will cared for his father, Apollo, after he turned mortal, and carried him back to his cabin. Will tried to give him nectar, but his lips started steaming, almost killing him due to being mortal. When Apollo woke up, Will asked him if he knew who he was, and Apollo realized that Will was his son. Will told Apollo that his vital signs were completely human, how he almost killed him, and the state of his injuries. Will thought it was funny that his father was the same age as him, and said that Meg seemed to be adjusting well to camp.
When Austin and Kayla walked in, Will told them to go to the big house and tell Chiron that Apollo was awake. Will helped Apollo stand and led him outside to the big house. Will saw Nico say that Apollo had a strong aura of death, told Nico they need to talk about his people skills and apologized to Apollo for his boyfriend. Will and Nico went together as buddies to tell the other campers that dinner was in an hour. Apollo did not understand Will's attraction to a son of Hades, but was happy if Will was happy.
That night, at dinner, Will sat with Nico (shoulder to shoulder), Apollo, Austin, and Kayla. Will bantered with Nico good naturedly, reminding Apollo of him and Hyacinthus. Nico and Will told Apollo that Will gave Chiron a doctors note so Nico could sit at their table, or else zombies would attack. Will and Nico also told Apollo the whereabouts of Percy, Annabeth, and the others from the Argo II. Later, While Chiron talked about the three legged death race, Will was caught staring at Paolo's arms, and when Nico brought it up, Will said he was merely assessing how his arms functioned after surgery. Will said that no one wanted to do the race, but they couldn't stand to disappoint Harley. Will bowed respectively when everyone else did when Meg was claimed.
After Peaches attacked the campers, Will tended to Sherman's head injuries. Will came back to the cabin with Austin and Kayla, and told them to get some sleep. Will put a blanket over Apollo and told him to sleep, soothing him. The next morning, Will and the others helped Apollo use the toilet, the shower, the sink, a toothbrush, and deodorant. Will also did morning boot camp with Apollo, and Apollo grumbled to Will about PE and asked where Clarisse was, and Will said she was in Arizona at college.
For the three legged death race, Will and Nico were partners, tied to each other. Will mentioned how he missed Grover , and how Juniper misses him. Will and Nico ran off to the race. Later, Will and Nico cared for a dozen injured campers and reattached Paolo's leg. Will wanted to look for Austin and Kayla, but there was a shortage of healers. Will and Nico set Valentina's broken arm while Apollo helped the others. The next day, Apollo and Meg went on a quest to find the Grove of Dodona and Will was at his going away party, with Billie, Malcolm, Paolo, and Nico. Will gave Apollo a combat ukulele and told him the oath he made was stupid. Will explained it was the work of Harley. Will was worried about Apollo and Meg, but Apollo reassured him that he would be back at dawn.
The next day, Nico and Will cared for Apollo in his cabin, after he showed up to camp without Meg at 6 in the morning. The two wanted to look for Meg, but Chiron rejected their request. Apollo had a concussion and Will healed him, and was asleep until noon. Nico and Will were worried about him and noticed that the hyacinths on the windowsill weren't there before. Will didn't want Apollo looking for Meg so soon, but Apollo told Will and Nico to protect the camp, and how the Roman emperors are alive. They were too shocked to go after Apollo when they learned the enemy was Nero.
That afternoon, Nico and Will were capsized in the middle of a canoe ride, and rushed to help everyone when the Colossus Neronis attacked. Will and Nico shadow travelled away and stole Sherman's chariot, and Will came back dragging Nico, who was half conscious. Nico passed out, and Will went to get him Gatorade. After the battle, Will cared for the worst cases of hay fever in the camp epidemic.
When Leo Valdez came back with Calypso on Festus, Will was one of the first campers to punch him. Will later started a bonfire in the amphitheater for a sing a long.
After arriving at Aeithales, Apollo thinks of Will and how his son is doing at camp.
His father thinks of him when thinking of his boyfriend, Nico, and how Nico could likely cure him of his zombie poison. Apollo is grateful that the two are not at Camp Jupiter.
Will is set to appear in the book.
Personality
Will is a caring person who is willing to help out anyone who needs to be healed. He cares greatly for his siblings and aided his father when the fallen god was at camp. Will also has a calming disposition, as shown when he calms down Clarisse during a counselor meeting.  During Nico's dream in The Blood of Olympus Will felt inadequate because he is a medic and not much of a skilled fighter.  
With a tendency to overwork himself, Will is extremely dedicated to his work, even going so far as to not sleeping for days on end. He has also developed a kind of shell, meaning that even in extremely stressful situations he at least looks calm and collected.
Appearance
Will is noted as having his father's surfer-body, shaggy blond hair, blue eyes, and having an athletic build. His appearance reminds Nico of Jason Grace in The Blood of Olympus. He typically dresses casually in a T-shirt and shorts.[3] Rick Riordan has stated that Will is in Nico's age group, making him about 15 years old.[4]
Abilities
Relationships
Family
Love Interests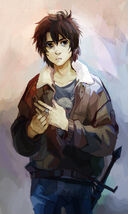 Will's relationship with Nico was never touched until The Blood of Olympus. When Nico arrives at the camp near Thalia's tree he is surprised to see Will planning on stalling the Roman camp. He told Nico he was doing this to get fresh air after helping Mellie give birth to her satyr baby boy and held Nico's hand to show how he was still nervous about helping her give birth, which "sent an electric current" down Nico's spine to his shock and he withdrew his hand. Will immediately notices Nico's condition and nags him on not using shadow traveling (or Underworld-ly stuff) anymore on his orders as a doctor. The two continue to bicker through their mission to at least make sure the onagers would not fire on Camp Half-Blood. When Nico stated that he was leaving both Camp Jupiter and Half-Blood, Will became upset and demanded a reason and berated him for thinking he didn't belong, saying that Nico has a lot of friends or at least people who'd like to be his friends at camp. Another blatant hint of a possible attraction is Will asking for his company in the infirmary. When Nico confessed his feelings to Percy, he walked away towards Will. This can be seen as symbolic of Nico ultimately choosing Will over Percy. After meeting Will outside the camp, Nico remembers his arrival with Apollo at the camp years before and how Thalia had referred to him as "hot." Nico didn't understand why he'd suddenly be thinking of that moment, but it was likely an indication of his attraction to Will, as the latter is a son of Apollo, sharing many of his divine father's traits. Nico also notes that in comparison to Will, Octavian looks like a watered-down, unhealthy version of Will, without anything in him that makes a child of Apollo special.
In The Hidden Oracle, it is revealed that shortly after Gaea's defeat, Nico finally comes out and confesses to Will about having a strong crush on the latter, and the two begin dating, with Will at one point affectionately referring to Nico as his boyfriend. Will's father, the former god Apollo, is completely supportive of their relationship, due to him having had several mortal boyfriends himself. They continue their playful banter with each other and are usually seen sitting close by, holding hands. In fact, Apollo claims that Nico and Will are so cute together as a couple, that it made him feel desolate, jogging his memories of the time he had spent with his mortal boyfriend Hyacinthus, one of Apollo's two all-time favorite lovers (the other being Daphne). Nico on his part is always ready to help and support Will, such as when he tirelessly helped him tend to wounded campers (notably Paolo Montes and Valentina Diaz). Nico also showed some jealousy when he caught Will staring at Paolo. Will stated that it was nothing and that he was merely admiring how well Paolo's arms were functioning after surgery. 
When the Colossus Neronis automaton attacked the camp, Nico and Will were in the canoe lake, so they promptly rushed over to the beach to help defend the camp. Nico shadow traveled with Will to a chariot flown by Sherman, Alice, and Julia. Nico passed out from the effort, Will then takes the son of Hades to the infirmary. After the battle, he tends to the worst case of hay fever.
Friends
Etymology
Will is a shortened unisex term for various names, such as "William" and "Wilhelm" for boys and "Wilhelmina" and "Wilma" for girls, all of which mean protector.
Solace is derived from the old French name "Sollas" which is derived from the Latin "Sōlācium", meaning comfort or "consultation in times of stress".
Trivia
His last name, Solace, may refer to the fact that his father Apollo is the god of the sun, as 'Sol' means 'sun' in Latin.
His last name Solace also means comfort or consolation in a time of distress or sadness.
It is also mentioned when talking to Travis and Connor Stoll in The Last Olympian he usually never stole. But it was necessary because there were many injured campers.
Will is the first counselor of Apollo's cabin not to die in battle and to appear in a book other than that of his introduction.
Oddly, Leo refers to Will as 'the archer dude' in The Lost Hero, despite the fact that it has been mentioned multiple times that Will is a healer, not an archer.
In The Blood of Olympus, Will can make a sharp whistle-like sound that can temporarily stun his opponents, making them clutch their ears in confusion.
Will is said to not be very good at music like most of his siblings, but more talented at healing.
It is hinted he is also attracted to Paolo as he was staring at him. When Nico calls him out on this he states that he was merely admiring how well his arms are functioning after the surgery. 
As shown in The Hidden Oracle, Will is the second confirmed LGBT demigod in the series. (Third demigod in the Riordanverse)

Hence, Nico and Will are the first gay couple in the series.

Nico states that Will reminds him of Jason Grace, as he has the same blond hair and blue eyes.
His full name is possibly William, which could be a reference to his alleged brother William Shakespeare, who is said to be a son of Apollo.
References
Community content is available under
CC-BY-SA
unless otherwise noted.