Winged shoes are magical shoes given as gifts by Hermes to his children. They are similar to Hermes' winged sandals, one of his many symbols of power.
Appearance
The shoes look like basketball shoes, but at the word "Maia", they sprout wings and enable the user to fly. If the word is spoken when the wings are out, the wings shrink back into the shoes and they descend. They also look like Converse Chuck Taylors, but have an "H" as a symbol of Hermes instead of a star.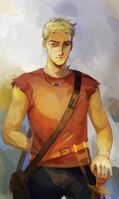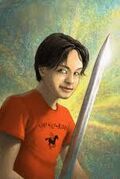 Luke Castellan gave Percy Jackson his pair that had been given to him by his father, Hermes. However, they were cursed, in order to drag Percy down to Tartarus once he got to the Underworld. Percy escaped this inadvertently by giving the shoes to Grover Underwood since it was a bad idea for Percy to hover because of Zeus, which confused them and the shoes fell off as he was dragged down, allowing him to escape. This confuses the group, but does not show much in the sense that Luke is an antagonist yet.
During the period that Grover was wearing them, he used it numerous times to get out of dangerous situations such as fighting Medusa, and escaping the trap at Waterland.
Luke gives the shoes to Percy who then gives them to Grover because it would be dangerous for Percy to be in the air. Later when Annabeth Chase and Grover are panhandling Luke shows up in an Iris Message and asks Percy how the shoes are working. Percy lies and says they are coming in handy. When they get to the Underworld the shoes try to pull Grover into Tartarus.
At Camp, Piper McLean briefly sees a sign on the Camp Half-Blood store, saying "50% off winged shoes".
While Percy and Annabeth are in Tartarus, Percy wonders if the winged shoes are still somewhere in Tartarus.
Film
Luke says that they just need a running start and it may take some practice. Unlike in the book, Percy never gave the shoes to Grover and used them himself. He first used them to get a pearl from the
statue
of
Athena
in Nashville. At the end of the movie when Luke steals the
Master Bolt
from Percy, they use the winged shoes to chase each other as the bolt switches hands. Luke manages to damage one of Percy's shoes (by cutting of one of the wings), but when Percy beats him and takes the bolt back, he takes Luke's shoes and flies back
to the
Empire State Building
.
Trivia
They are similar to Hermes' winged sandals, possibly because Percy was given them by Luke, a son of Hermes.
In real life, the flying shoes are actually high top converse.
Community content is available under
CC-BY-SA
unless otherwise noted.