Zeus's Cabin (#1) is the cabin that houses demigod offspring of Zeus.
Description
Zeus's Cabin is described as looking like a white marble box, with heavy, white columns in the front. This cabin is the biggest and bulkiest of all the cabins. It has polished bronze doors that shimmer like a hologram, and have lightning bolts streaked down them. The dome-shaped ceiling is decorated with moving mosaics of a cloudy sky and thunderbolts. It also thunders all the time.
The cabin has no furniture inside at all, described as looking like a bank. It only has alcoves with golden eagle statues and one intimidating statue of Zeus in the middle. It is later described as looking like a glaring hippie that was ten feet tall and has sight of every place in the room except a corner where Thalia Grace had put her sleeping bag, and a few photos of herself, Luke Castellan, and Annabeth Chase when they were younger.
Known Occupants
Abilities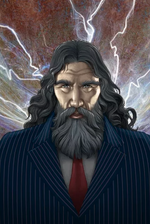 Children of Zeus are extremely powerful half-bloods due to their father being one of the Big Three.
Atmokinesis: They can control the weather, such as summon rain clouds or huge storms to attack their foes.

Electrokinesis: They can control lightning and electricity, such as withstand electric shocks and give people shocks when touched. All the children of Zeus can call down powerful bolts of lightning to strike their enemies, although it tires them when they do so.
Aerokinesis: They can manipulate air, such as pick up or push objects backwards, shoot themselves out of water, and ride the winds to fly. Thalia has never shown this ability, although she never tried due to her fear of heights.

Enhanced Leadership Quality: Children of Zeus feel that they should be the leader of whatever group they are in, as their father is King of Olympus. They are all naturally good leaders and tend to assume leadership in groups.
Magical items
All of Thalia's items are no longer in cabin as of The Titan's Curse:
Gallery
Trivia
Zeus's cabin is tied with Poseidon's cabin for having the third least amount of possible inhabitants, with two inhabitants each.

Considering that Thalia is a Hunter of Artemis, she should stay in the Artemis cabin. Also, Jason was a child of Jupiter, not Zeus. This means that Zeus's cabin should currently have no occupants.

With Jason's death, however, the cabin no longer has any.
It is possible that Amelia Earhart lived in this cabin as she was the daughter of Zeus.